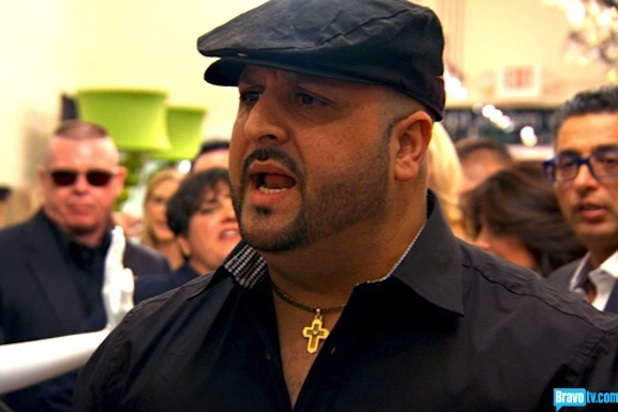 "Real Housewives of New Jersey" staging a fight for the sake of ratings? Someone pass the smelling salts, please…
"RHoNJ" personality John Karagiorgis — a/k/a Johnny the Greek — and his wife, Penny Karagiorgis, are suing stars Giuseppe "Joe" Gorga, Christopher Laurita and Jacqueline Laurita, along with Bravo, "Real Housewives" production company Sirens Media and NBCUniversal, claiming that the melee depicted at the end of Season 5 was a set-up.
Also read: 'Real Housewives' Lisa Vanderpump's Husband Files Lawsuit: I Was Attacked With a Concrete Chipper!
The suit claims that, under the direction of Sirens, Bravo and NBC, various members of the cast and crew "prepared a plan by which Cast members were going to verbally confront, physically assault and/or unlawfully attack John  Karagiorgis."
The March 31 melee went down at Moxie Salon, also named as a defendant in the suit obtained by TheWrap.
Also read: 'Real Housewives of New Jersey' Star Caroline Manzo Lands Bravo Spinoff Pilot (Exclusive)
While the fight may have been staged, the blows were real, the lawsuit says. According to the suit, Gorga and Christopher Laurita "unlawfully attacked John Karagiorgis by punching [him] on the head and/or face with a closed fist."
Jacquelin Laurita, meanwhile, allegedly struck him "in the head and/or face with a stiletto-type shoe."
According to the suit, "Real Housewives" crew members restrained Karagiorgis so that he was unable to defend himself during the throw-down, and failed to notify public safety and emergency officials of the fight, or of Karagiorgis' injuries.
Alleging battery and assault, conspiracy, negligence, vicarious liability and intentional and negligent infliction of emotional distress, among other charges, the pair are seeking unspecified damages.
A Bravo spokesman had no comment for TheWrap.
Pamela Chelin contributed to this report.