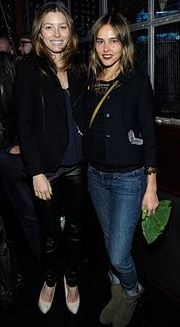 Before Jessica Biel joins "The A-Team" on screen in 2010 (with Bradley Cooper), she's joining a real-life A-team.
Along with "Transformers" star Isabel Lucas, hip-hop artist Lupe Fiasco and a dozen other social and cultural luminaries, Biel plans to summit Mount Kilimanjaro in Tanzania in January. (At left, Biel and Lucas enjoy the thick oxygen at sea level. All photos by Getty Images.)
As the group prepared for the trek up the world's highest free-standing mountain, friends like Justin Timberlake and Zach Braff came to wish them luck at the pre-ascent sendoff Wednesday night.
The environmentally minded 14 — which includes both a Cousteau and a Kennedy offspring — is climbing to fight the global clean-water crisis. Starting Jan. 7, the group will post tweets, texts and photos on their HP/Intel/Windows 7 sponsored site with "altitude" markers signaling their position.
The rare industry project that screams "I'm a PC" isn't the only refreshing thing about this project. Grammy nominee Kenna, a native of Ethiopia and the project's ringmaster, promised TheWrap that this is "not just a celebrity thing, where we're going for no reason." So far, they've already raised more than a million "liters" of clean water to be distributed worldwide.
On Thursday, the suddenly social Brad Pitt and Angelina Jolie, along with Bruce Willis, Matt Damon, Larry David, Cindy Crawford and Rande Gerber, broke out the tuxes on a weeknight for the annual UNICEF fundraiser. Over dinner, George Clooney presented the Man of the Year award to his "Ocean's Eleven" producer Jerry Weintraub.
Later, Bruce Willis and CAA's Bryan Lourd took the mic to sing Weintraub's praises before handing it off to the real singers – Paul Anka and Tony Bennett.
Muhammad Ali (right, with Jolie and Pitt) rounded out the championship lineup of talent at the Beverly Wilshire.
Spike TV balanced out that cosmic concentration of star power at its Video Game Awards on Saturday night. Luke Skywalker himself, Mark Hamill, strolled the carpet with the ladies of MTV's "Jersey Shore," who go by the nicknames J-Woww and Snooki. (Kudos are in order for making it from "the shore" to Hollywood red carpets in only 10 days.)
Meanwhile, two things that unexpectedly showed up in Cooper's Las Vegas hotel room in "The Hangover" — a baby and Mike Tyson — showed up together for the gaming show at the Nokia. Tyson was hanging out with UFC tough guy Kimbo Slice (left).