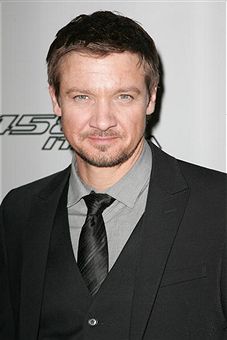 You can't say that Paramount, director Brad Bird, producer J.J. Abrams and star Tom Cruise — aka the team behind "Mission: Impossible 4" — don't have great taste.
Just as the talented Anthony Mackie was set to screen test for the studio, his Oscar-nominated "Hurt Locker" co-star Jeremy Renner has been cast alongside Cruise in the sequel, an individual familiar with the project has confirmed to TheWrap.
The next step in the casting process with be finding a female lead for the sequel, as Deal Central has learned that Michelle Monaghan is not expected to return as Cruise's wife, who saved his life at the end of the third film.
Paramount has been looking to cast an actor who could potentially carry the series, should the focus of the franchise shift away from Cruise's team leader Ethan Hunt, who is expected to return for a fifth installment if "M:I:4" proves to be a hit. The 39-year-old Renner certainly fits that bill.
The studio reportedly considered "Star Trek" star Chris Pine and "Inception" actor Tom Hardy, but both of them were booked, though quite frankly, Renner is a much more interesting choice.
Speaking of schedules, Renner had been keeping his open in order to play an alcoholic drifter in need of spiritual guidance in Paul Thomas Anderson's upcoming movie about the leader (Philip Seymour Hoffman) of a religion that bares more than a little resemblance to Scientology. I wonder how Renner's proposed participation in that picture will go over with famed Scientologist Cruise?
Deal Central previously reported that Mackie, Kevin Zegers and Christopher Egan were scheduled to screen test later this week, but Deadline says that those tests have been canceled.
However, I'm not sure why, since surely there will be more operatives added to Cruise's new crew. So why not cast Renner and Mackie in an attempt to recreate the intense chemistry the two shared in "The Hurt Locker"?
I mean, were Zegers and Egan really being considered for the same role as Pine and Hardy? Neither of those young actors are ready to lead a major action franchise yet, but they could definitely be rookie spies who sign up to sink or swim with Cruise and the rest of the best of the best.
Renner is set to play Hawkeye in Joss Whedon's "The Avengers." Paramount is expected to release that Marvel movie under the duo's distribution deal, which was made before Marvel was acquired by Disney.
"Mission: Impossible 4" will begin production this fall.
The casting of Renner, who is represented by CAA and Untitled Entertainment, was first reported by Deadline.