"Scott Pilgrim vs. the World" will easily sneak off as the buzziest thing at Comic-Con, if it didn't already start out that way.
It's actually that good.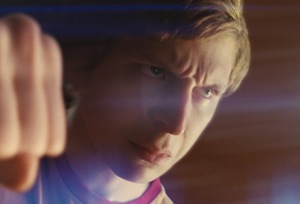 For the uninitiated at the world premiere on Thursday night at the historic Balboa Theatre — me and many others, I'm sure — it takes a solid 30 minutes to reconcile that nothing is going to be explained for you in this movie. Some of these kids have mystic battle powers, others don't, and that's that.
(For a look at the initiated, see: "Pilgrim" Fans Dressed for World Premiere Success — Slideshow)
"Scott Pilgrim" can't be bothered with origins or rules or physics — and thank goodness. Those would just gum things up.
The film follows a strange and wimpy 22-year-old living in Toronto who falls headlong for the mysterious, funky chick with fuscia-dyed hair. She just moved into town, but before long, his charms work, and he soon discovers he'll have to battle each of her seven deadly "exes" — to the death, of course — in order for the pair to continue dating.
So you're dropped into a world where young people might just suddenly start fighting one another as if they were trapped in a life-sized video game, complete with text on the screen. And they might just hold hands and fly, or their guitars might spew bolts of energy, or their skateboards might just go 240 mph, and you're going to have to just be cool with that.
It's jarring at first, but the sooner you get over this, the sooner you can join the fun. So get over it.
Once you do, "Scott Pilgrim" is one of the most radical, fresh, what-the-heck-just-happened movies to come out of Hollywood in a long, long time. The best comparisons I can muster are the dream sequences in "The Big Lebowski," or the energetic chatter of "Pulp Fiction," or the whipsmart sight-gags of "Ferris Bueller's Day Off."
But these are ham-fisted parallels, and I apologize for them, as I am not a film critic by trade. I do, however, feel qualified to say this much: "Scott Pilgrim vs. the World" is truly a thing all its own, and really — it's about goddamn time we had one of those.
(Read also: Epic Wins for Disney, 'Scott Pilgrim'; Who FAILed at Comic-Con?)
Fans of the foundational comic book series, which debuted in 2004, may not see this as groundbreaking material; everyone else will. It's a ballsy mashup of imagery and rules of the universe that borrow from video games, TV sitcoms, Saturday morning cartoons, rock 'n' roll, anime, sci-fi/fantasy and yes, comic books.
This soup of sensibilities could have easily been overcooked, especially at this breathless pace. Oh, how it wasn't.
And all the credit for that goes to Edgar Wright ("Shaun of the Dead"). The young filmmaker glues it all together with Michael Cera, an actor who, until now, seemed in real danger of burning out his brand. But Cera just kills it in every scene; he gets into your mind with his eyes, reacting to the absurdities swirling around him just enough to make you feel like, "OK, this is all very insane, but at least I'm not the only one who notices."
Cera's great, but the truth is that the casting is plain brilliant across the board in this film, and there are TONS of characters. Cera's roommate (Kieran Culkin is six exits past fabulous here), his first girlfriend, his sister (Anna Kendrick), and all seven of those exes … a total of 14 principal characters, give or take a handful.
You get to know and appreciate each one, somehow. Expect to see many of them at Halloween this year.
But the best thing about "Scott Pilgrim" is that it's fun. The laughs are fast and furious; it's touching, but not in a fey way; the action is fast and nimble without being confusing or jerky; and the message just gets more and more positive as the story winds down. Dare I say it's a feel-good movie?
No. It's a feel very, very good about what pop culture hath wrought movie.
"Scott Pilgrim vs. the World" opens wide Aug. 13; Thursday night's screening at Comic-Con was its world premiere.
Josh Dickey was tweeting like crazy from Comic-Con at http://twitter.com/JoshDickey. And he asks you: Who is more foolish — the fool, or the fool who follows him?