For a non-AMPAS member trying to work his way through as many of the foreign-language Oscar contenders as possible, the Palm Springs International Film Festival is a godsend.
Most of this year's 63 submissions don't have U.S. distribution (and most never will), but Palm Springs has made a point of rounding up a hefty number, and showcasing them at the annual early-January festival.
In the current edition of the festival, which runs through Sunday, PSIFF is screening a remarkable 40 of the 63 entries. Three days at the festival added another batch of contenders to my tally, which now stands at 39, and which I've been writing about in a series of pieces reviewing all the entries I've seen.
I've also added capsule reviews to TheWrap's master list of all the foreign-language entries.
Also read: Oscar's Foreign-Language Submissions: The Master List (Updated With Reviews)
The Academy's general committee has been watching all 63 films over the last three months, with the final two screenings taking place on Friday night. Next week, an executive committee will meet to add three of its own choices to the general committee's six favorites; a nine-film shortlist will be released, and a final round of judging will take place.
This new batch of reviews includes three films from Asia, including one of the two animated films in the field, along with a Welsh and Spanish-language entry from the U.K. and a Turkish film that has won critical raves but might be tough going for some Academy voters.
Hong Kong: "A Simple Life" (photo above)
Director: Ann Hui
Based on a true story from the life of the film's producer, "A Simple Life" is a slow, powerful, beautiful valentine to a longtime housekeeper. The film features a remarkable performance from actress Deanie Ip, who came out of retirement to play a woman who's life mission is to serve others, and who faces old age desperate to never be a burden to anyone.
Hui gives the film a gentle, elegiac tone, telling her story in simple strokes and letting it gradually accumulate real power. She takes a small slice of life and makes it feel deep and profound.
Iceland: "Volcano"
Director: Runar Runarsson
So many countries submit films whose central characters are old that you have to wonder if they're deliberately trying to appeal to an Academy electorate that tends toward AARP age. But Runar Runarsson trod in this territory before with his Oscar-nominated short "The Last Farm" in 2005, and there's nothing pandering about his approach in "Volcano."
A small movie about big issues, the film follows a cranky old man who has a change of heart when he retires from his longtime job as a school superintendent – but his improved attitude is immediately put to the test when calamity befalls his wife. "Volcano" is a touching character study told, like "A Simple Life," in small strokes.
Italy: "Terraferma"
Director: Emanuele Crialese
Although it has more Oscar wins than any other country, Italy has had a rough go of it lately. It submitted the dark and gritty "Gomorrah" and surprisingly wasn't nominated … deliberately switched gears with the more conventional "Baaria," which was also passed over … and then last year had "The First Beautiful Thing," which prompted strong word-of-mouth with its members screening but didn't make the shortlist.
This year's Italian entry deals with illegal immigration, a hot button issue for many European films; it follows an aging fisherman on a small island off the coast, who runs afoul of the law when he rescues some African refugees who are adrift at sea. The dilemma between the law of the sea and the law of the land is nicely drawn, but the film slips into sappiness – and a brief, strange and jarring musical number in the middle of the movie (and on the poster) doesn't help.
Japan: "Postcard"
Director: Kaneto Shindo
Directed by a 99-year old who in part is telling his own story from World War II – where he was one of only six survivors from a regiment of 100 – "Postcard" is at times austere and at times hysterical; it can be a measured, subtle character study, and it also gets jarring and cartoonish.
The film spends the first 45 minutes destroying the lives of the main characters, a young woman who loses her entire family (including two husbands) because of the war, and a soldier who returns to find his wife has run off with his father. Although it's very solemn at times, its middle section gets broader and almost descends into farce – and just as it takes its time with the deliberate rituals that dominate the first half of the film, it eventually settles into screaming matches and hysteria and stays there, too.
Lithuania: "Back to Your Arms"
Director: Kristijonas Vildziunas
Set in Berlin in the days just before the Berlin Wall went up in 1961, "Back in Your Arms" makes its audience work hard to sort through tangled loyalties, dark secrets and the state-fostered air of paranoia that infects every character. If it doesn't convey this landscape as brilliantly as the Oscar-winning "The Lives of Others" did, that's an impossibly high bar; on its own, the film is an effective mood piece from the Cold War.
Its main character is a young Lithuanian-American girl who has come to West Berlin in an attempt to meet her father, who is with his East German handlers somewhere across what is not yet an impassable barrier. Viewers may find it easy to spend a lot of the movie doing just what the protagonist is doing: trying to figure out who's playing whom, who's a legitimate threat and who really wants to help. It's a rewarding puzzle, though.
Singapore: "Tatsumi"
Director: Eric Khoo
One of two animated entries in the foreign-language race, "Tatsumi" is an audacious blend of different approaches to tell the story of the life and work of manga pioneer Yoshihiro Tatsumi. Part of the film is an animated biopic, depicting Tatsumi as he became a successful comic artist. At regular intervals, though, it shifts into episodes drawn from his work; most of these are strong and adult-oriented, with dark themes and plenty of violence and sex.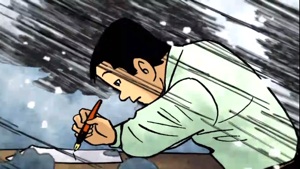 The result is an intriguing, dramatic and at times disorienting mixture of styles and stories; it's a chronicle of postwar Japan in comic form, probably not a crossover hit but certainly a treat for fans of Tatsumi and his form.
Slovakia: "Gypsy"
Director: Martin Sulik
"Gypsy" tackles a situation that runs through many of this year's entries: a teen (or, in some cases, a child) stuck in a dead-end situation, whose plight is used to illustrate the social ills of a particular environment. In this case, the central character is a teenager living in a community in Slovakia, where the locals shun the gypsies and the boy's new stepfather tries to instill in him the outsider's code: Steal whatever you can, and don't trust anyone.
The sense of futility and poverty is palpable, though Sulik does leaven the despair with a few badly needed comic moments (some involving ostriches). In the end, "Gypsy" tells a tough, unpleasant story with some grace.
Spain: "Black Bread"
Director: Agusti Villaronga
Spain's choice over Pedro Almodovar's "The Skin I Live In" is a film that swept that country's Goya Awards, and one that uses an approach common to many recent Spanish films: examining the aftermath of the Spanish Civil War through the eyes of a child. You could call it "Pan's Labyrinth" without the extensive magical elements – and, for that matter, without the magic of Guillermo del Toro's film.
A brutal murder happens at the beginning of the film (and involves by far the movie's most striking and disturbing image), but the man who is accused is clearly not the perpetrator. His son is sent off to live with relatives for his own protection, but the war has scarred Spanish society so deeply that there is no refuge. The hint of the supernatural hovers over the film, but it fades as Villaronga's narrative becomes melodramatic and plodding.
Turkey: "Once Upon a Time in Anatolia"
Director: Nuri Bilge Ceylan
International critics have praised Ceylan's long, slow and immersive look at a murder investigation on the Anatolian steppes – a tough and uncompromising film, like Bela Tarr's "The Turin Horse," with a deliberate style that may test the patience of less adventurous Oscar voters. It follows a team of detectives who spend the night driving from one desolate location to another, trying to locate a body with the help of a confessed murder who can't remember much because he was drunk on the night in question.
Opening with a brilliantly lengthy, static shot in which the headlights of cars on a dusty road look like plumes of fire, this is a film of remarkable images and snail's-pace action. It requires viewers who are ready to surrender to its gritty languor (as the voter who emailed me after the screening was definitely not), but is richly rewarding for those who do.
U.K.: "Patagonia"
Director: Marc Evans
Beautifully shot in Wales and in the Patagonia region of Argentina (where a number of Welsh emigrants settled), "Patagonia" tells parallel stories: a Welsh couple who travel to Argentina and have their relationship tested, and an elderly woman who journeys from Patagonia to Wales to find the farm where she was born. For much of the running time, the couple's story overshadows and seems more urgent than the woman's story, although that changes late in the film.
Evans seamlessly interweaves the two stories, and manages to build momentum even as the narrative jumps from one country to another. "Patagonia" is lyrical and a little mystical, a low-key gem that draws connections between different sides of the world.
Venezuela: "The Rumble of the Stones"
Director: Alejandro Bellame Palacios
Like "Gypsy" and "Black Bread" among this batch of films, "The Rumble of the Stones" focuses on children in tough situations – here, a Venezuelan slum wracked with gang violence. The film deals with a young mother working desperately to get out of the neighborhood before the gangs ensnare her younger son the way they have her older one, and at first it conveys her dilemma forcefully.
Still, the movie is doomed by a crucial plot twist so transparent that you spend half the movie in a state of dread waiting for it to happen – and when it does happen and one character says "What a shock!," the audience is bound to think, It's not a shock to us. After that, the film descends into such hysterical melodrama that the final healing notes seem false.