(More: Get TheWrap's Complete Golden Globes Coverage)
Ricky Gervais came out swinging during Sunday's Golden Globes monologue at a slew of familiar targets, from Kim Kardashian to the Hollywood Foreign Press Association. Here are some of his best jokes.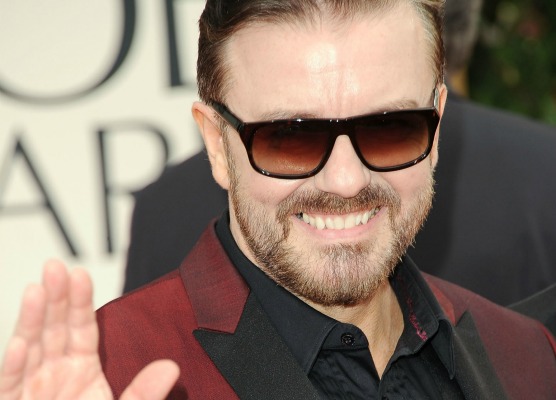 "Tonight you get Britain's biggest comedian hosting the world's second biggest awards show on America's third biggest network. Sorry, it's fourth. For any of you don't know, the Golden Globes are just like the Oscars, but without all that esteem."
Also read: Gervais Gives Globes Nothing to Complain About — Except a Sedate Show
"The Golden Globes are to the Oscars what Kim Kardashian is to Kate Middleton. Bit louder, bit trashier, bit drunker, and more easily bought. Allegedly. Nothing's been proved."
On Eddie Murphy stepping aside as Oscars host: "When the man who said yes to 'Norbit' says no to you, you know you're in trouble."
"Eddie Murphy and Adam Sandler, between them, played all the parts in the movie 'The Help.'"
Also read: Russell Brand Cites Kurt Vonnegut to Address Katy Perry Divorce
"The Hollywood Foreign Press have warned me that if I insult any of you, or any of them, or offend any viewers or cause any controversy whatsoever, they'll definitely invite me back next year as well."
On a warning he allegedly received from the Hollywood Foreign Press Association: "I musn't mention Mel Gibson this year. Not his private life, his politics, his recent films, and especially not Jodie Foster's "Beaver." I haven't seen it myself. I've spoken for a lot of guys who haven't seen it either. But doesn't mean it's not any good.
Describing "Boardwalk Empire": "It's about a load of immigrants who came to Amercia about a hundred years ago and they got involved in bribery and corruption, and they worked themselves up into high society. But enough about the Hollywood Foreign Press."
More on the HFPA: "They do an awful lot for charity and they're a nonprofit organization. Just like NBC."

After telling winners to limit their thanks to God and their agents: "God and my agent had exactly the same amount of input into my career."