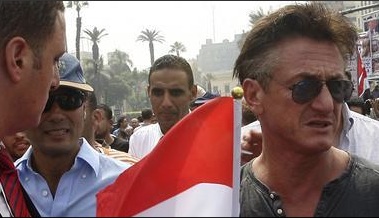 Sean Penn joined activists in Egypt on Friday to push the country's military leaders to transfer power to civilians more quickly.
The actor and activist joined protestors in Tahrir Square as part of a demonstration called "Reclaiming the Revolution," according to Reuters.
Also read: People of Egypt, Lindsay Lohan Applauds You
"The world is inspired by the call for freedom by the courageous revolution of Egypt," Penn told Ahram Online. "There are still struggles forward, there are constitutional issues, there [needs to be] a transition of power from the military to the people."
Penn and other demonstrators were also calling on the military leadership to do away with emergency laws that date back to deposed President Hosni Mubarak.
Those laws give security forces broad powers to detain citizens and hold them in custody, the Associated Press reports.
The actor was invited by Egyptian actor Khaled el-Nabawi, in part to demonstrate that the country was once again a safe place for tourists.
Parliamentary elections are scheduled to take place on Nov. 28. However, elections for new leadership were supposed to take place some six months after a revolution did away with the old Mubarak regime — a deadline that the new elections will miss by some two months.