Tired of weeding through 500 channels to find what you want?
The solution, may be Sezmi, a startup that launches later this year. Sezmi sees itself not as an adjunct to cable or satellite, but as a cheaper replacement for it, offering a core package of around 40 channels of popular programming, as well as a good amount of VOD content.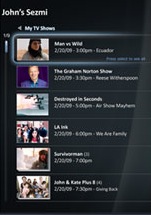 Which means most of what you want will be there, but: "We won't have C-SPAN 14," Buno Pati, Sezmi's CEO told TheWrap.
Sezmi is a hybrid; it uses both digital broadcast spectrum and broadband to deliver programming. "You can't deliver "Lost" to 100 million people using broadband," Pati said. So if you're not close enough to get over-the-air digital transmissions with Sezmi's included indoor antenna, Sezmi will say no to you.
The Sezmi box includes a DVR with 1TB of storage, enough to hold 1,000 hours of standard def programming; it needs that much room because the system recognizes your viewing patterns and not only downloads the shows you ask for but programming it thinks you will like before you ask for it.
And when the company says "you," it means "you." Separate accounts can be set up for each family member, so that parents don't have to wade through a pile of "iCarly" episodes to find "Grey's Anatomy.
Will Sezmi succeed? It's impossible to say, because the company, which received $33 million in venture funding last fall, won't reveal what programming deals it has — or with which broadcasters it's pacted to carry the over-the-air part of the service.