See TheWrap's Complete Emmys 2011 Coverage
Apparently, there really are no hard feelings between Charlie Sheen and his "Two and a Half Men" replacement.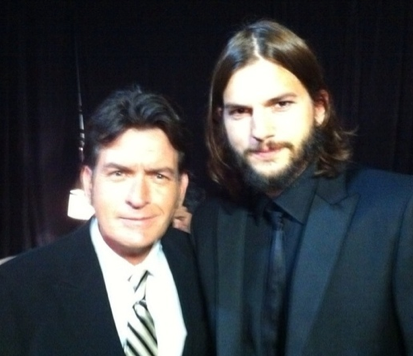 Soon after wishing the cast of his former show "nothing but the best" at the Emmys, Sheen tweeted backstage pictures of himself with Ashton Kutcher (one of the pictures, left).
Also read: Sheen at Emmys: 'Nothing But the Best' for 'Two and a Half Men'
"Great talking to you! We'll all be watching! Make us proud!!" Sheen tweeted to Kutcher.
With another picture of himself and Kutcher, he tweeted the description, "Giving the new kid a little advice..!"
The tweets came after Sheen addressed the "Two and a Half Men" cast and crew in presenting the award for Outstanding Lead Actor in a Comedy.
Also read: The Complete List of Emmy Winners
"From the bottom of my heart, I wish you nothing but the best for this upcoming season. We spent eight wonderful years together, and I know you will continue to make great television," Sheen said.
Presenting an award with Sheen's former co-star, Jon Cryer, Kutcher revisited one of Sheen's more infamous remarks about Cryer — one for which Sheen later apologized.
"Jon, I want to tell you something: I do not think that you are a troll," Kutcher said. Cryer hugged him.
Sheen is making nice with his former show — which will return Monday, on the same night his Comedy Central roast airs — despite his $100 million lawsuit against his former bosses over his firing.