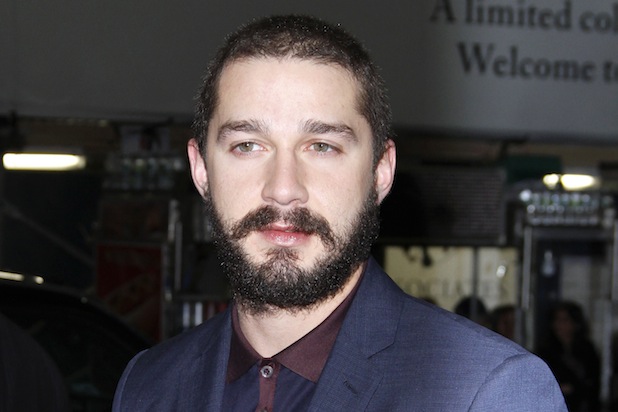 Shia LaBeouf hopes to work out a deal to give Daniel Clowes proper credit for his short film "HowardCantour.com," which caused an uproar this week for its glaring similarities to Clowes' obscure 2007 comic "Justin M. Damiano," an individual close to the situation told TheWrap.
LaBeouf's overture may include a monetary settlement of some kind, though how much wasn't immediately clear, as the film wasn't meant to be a profitable enterprise. But a deal would almost surely include proper credit in the film's credits, which previously made no mention of Clowes' source material.
The screenwriter and comicbook artist's associate and publisher told Buzzfeed on Tuesday that the writer was "considering his legal options."
LaBeouf apologized over Twitter late Monday night for failing to credit Clowes' work, which he said was "a source of inspiration" for his short film. The 12-minute short, which debuted at the Cannes Critics' Week, stars Jim Gaffigan as a tortured online film critic named Howard Cantour, who pines for another young journalist played by Portia Doubleday.
LaBeouf did not equivocate in his apology — he made it clear that he improperly lifted the story, which was only credited as "A Film by Shia LaBeouf."
Also read: Shia LaBeouf Apologizes After Short-Film Plagiarism Accusation: 'I F–ed Up'
"In my excitement and naiveté as an amateur filmmaker, I got lost in the creative process and neglected to follow proper accreditation," he said in a series of tweets. "I'm embarrassed that I failed to credit (Clowes) for his original graphic novella 'Justin M. Damiano,' which served as my inspiration. … I fucked up."
LaBeouf's apology may have backfired, however, as it appears to have been partially plagiarized from Yahoo! Answers, giving his critics even more ammunition.
Clowes' long-time editor Eric Reynolds took issue with the apology in an email to Buzzfeed on Tuesday morning. "His apology is a non-apology, absolving himself of the fact that he actively misled, at best, and lied, at worst, about the genesis of the film. No one 'assumes' authorship for no reason. He implied authorship in the film credits itself, and has gone even further in interviews. He clearly doesn't get it, and that's disturbing. I'm not sure if it's more disturbing that he plagiarized, or that he could rationalize it enough to think it was OK and that he might actually get away with it. Fame clearly breeds a false sense of security."
In "HowardCantour.com," Thomas Lennon plays a rival critic, while Dito Montiel, who directed LaBeouf in "A Guide to Recognizing Your Saints," plays a filmmaker in desperate need of a good review. Clowes said at the time that he had no idea his comic had been misappropriated.
"The first I ever heard of the film was this morning when someone sent me a link. I've never spoken to or met Mr. LaBeouf," Clowes told BuzzFeed. "I've never even seen one of his films that I can recall — and I was shocked, to say the least, when I saw that he took the script and even many of the visuals from a very personal story I did six or seven years ago and passed it off as his own work. I actually can't imagine what was going through his mind."