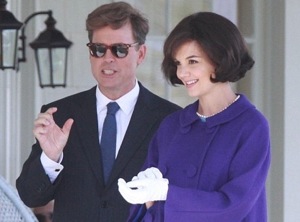 Showtime has passed on "The Kennedys," the mini-series the History Channel axed last week under pressure from defenders of the Kennedy legacy.
"Although 'The Kennedy's' is well produced, well acted and a quality piece of work, it doesn't fit Showtime's programming brand," the network said in a statement.
It was the second time in a week a network has said the mini-series was off-brand: History had the same justification for pulling the plug on the miniseries, which critics accused of having a right-wing slant.
Speculation ran rampant that Showtime might give new life to "The Kennedys" as it did to "The Reagans" after CBS scrapped that mini-series in 2003 amid criticisms from conservatives.
The objections to "The Kennedys" provided a liberal mirror to those objections. Kennedy defenders, including former presidential advisor Theodore Sorenson, were critical of the project from the beginning, in part because it came from "24" creator and avowed conservative Joel Surnow.
The series featured a top-shelf cast including Katie Holmes and Greg Kinnear.
The big-budget series was finished and originally slated to air on A&E Television's History this spring.