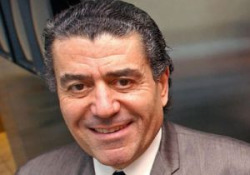 Showtime isn't responding to billionaire media mogul Haim Saban's push to get Oliver Stone's planned Showtime documentary series "The Secret History of America" canceled in the wake of the director's controversial comments about Jews and the Holocaust.
Showtime president-CEO Matt Blank made introductory remarks at the Television Critics Association's summer press tour on Thursday, but he didn't address the controversy nor did he take questions from reporters.
Network spokesman Richard Licata declined to comment on Saban's statements.
Stone stirred a hornet's nest this weekend when he told a reporter for the London Times that "Jewish domination of the media" affected attitudes about the Holocaust and the Israeli government. Stone later apologized for his remarks, twice.
The director, who is half-Jewish, has a history of making controversial statements about the Holocaust and other political issues.
In response to Stone's comments, Saban exclusively told TheWrap, that he contacted Les Moonves, head honcho at Showtime's parent company CBS, to urge the network to stop working with Stone.
"This guy should be helped in joining Mel Gibson into the land of retirement, where he can preach his anti-Americanism and anti-Semitism in the wilderness where he belongs … anyone who works with this guy, should be ashamed of him/herself, and shouldn't share that fact with their neighbors, or kids for that matter," Saban said.
Saban is the chairman of Saban Capital Group and a major investor in the Spanish-language broadcaster Univision. He is an Israeli-American and a staunch supporter of Zionist causes.
Oliver Stone's "Secret History of America" is slated to air on Showtime in January 2011.