The 2013 Sundance Film Festival is going into the homestretch, with three days of screenings, one awards ceremony and dozens of post-mortems still to come.
And as moviegoers come down from the mountain and the films that were acquired in Park City are readied for release, a festival that initially seemed to be disappointing is shaping up to be a solid showcase for a wide variety of indie films … in other words, a fest that delivered what Sundance is supposed to deliver.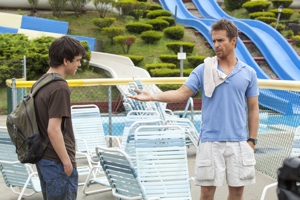 Certainly, some of us went to Park City looking for the next "Beasts of the Southern Wild," the galvanizing film that screened on the second day of last year's fest and is now a Best Picture Oscar nominee; or the next doc as entertaining as "Searching for Sugar Man" or as infuriating as "The Invisible War."
Also read: TheWrap's Coverage of Sundance 2013
And when they didn't arrive, we quickly concluded that it was a lackluster Sundance.
But as the festival nears its awards ceremony on Saturday and its final day on Sunday, Sundance 2013 has produced a large number of deals, including a couple of the most lucrative ones in the festival's history.
"The Way, Way Back" (above) went to Fox Searchlight for about $10 million, similar to what that studio paid for "Little Miss Sunshine" seven years ago; Joseph Gordon-Levitt's "Don Jon's Addiction" (below) went for $4 million, but Relatively also committed to an addition $25 million in publicity and advertising support.
Nearly every film that got some buzz found a home, and the Sundance awards picture is wide open; there's no clear frontrunner, just a lot of well-liked movies with strong constituencies.
Also read: Nicole Kidman, Mia Wasikowska Show Off the New Sundance Equation: Indie = Crazy
So maybe this was a sneaky Sundance, a festival that didn't look impressive until you got out of the cold, stepped back and took a look at what has happened.
The festival, like some of the movies, snuck up on you. The first three people I spoke to who saw "Don Jon's Addiction" told me that it was simply awful, and that I should stay away at all costs. Within a day or two, it was starting to pick up decent word-of-mouth, and in four days it had been picked up by Relativity.
The chick-flick comedy "Austenland" struck me as being sporadically amusing but mostly flat — but it got decent buzz, too, and found a home with Sony Pictures Classics for more than $4 million. So did "Kill Your Darlings," a murder story set in the 1944 that got less attention because its characters include Allen Ginsberg and Jack Kerouac than because of a graphic sex scene involving Daniel Radcliffe.
Also read: Are Filmmakers Vain or Nostalgic? The Digital Distribution Dilemma
And speaking of sex, which was abundant in this year's films, "Lovelace" sold to Weinstein and "Two Mothers" went to Exclusive Releasing and Michael Winterbottom's' "The Look of Love" went to IFC, all of those sales coming on the heels of reviews that were mixed at best.
The films that picked up stronger buzz — "The Spectacular Now," "Blackfish," "Fruitvale," "Toy's House" — also sold, with Weinstein's Radius and the new A24 being among the most active buyers.
Of course, Sundance sales don't guarantee Sundance hits; it remains to be seen if any of this year's entries can justify their price tags.
As for the festival prizes that will be announced on Saturday evening, the Grand Jury Prize in the U.S. Dramatic Competition is in the hands of a jury that includes director Ed Burns, cinematographer Rodrigo Prieto and executive Tom Rothman.
David Lowery's crime-spree drama "Ain't Them Bodies Saints" has stirred up some talk of prizes, but so have first-time director Jill Soloway's character study "Afternoon Delight" (right), Kyle Patrick Alvarez's David Sedaris adaptation "C.O.G.," Lynn Shelton's austere "Touchy Feely" and James Ponsoldt's teen drama "The Spectacular Now" … and, for that matter, most of the other films in the broad-ranging competition.
On the documentary side, the initial buzz went to "After Tiller" and "Dirty Wars," with "Blackfish" and "Valentine Road" coming on later and "Twenty Feet From Stardom" remaining the feel-good entry.
Out of competition, Richard Linklater's "Before Midnight" won raves for the way it completed the unexpected trilogy that began at Sundance with "Before Sunrise" in 1995, and Lucy Walker's documentary "The Crash Reel" won repeated standing ovations at its screenings.
Last year's Sundance award winners included six films that went on to receive Oscar nominations: "Beasts," "Sugar Man," "Invisible War," "The Sessions" (titled "The Surrogate" when it won the audience award), "5 Broken Cameras" and "Chasing Ice." The year before it produced two, both in the documentary category.