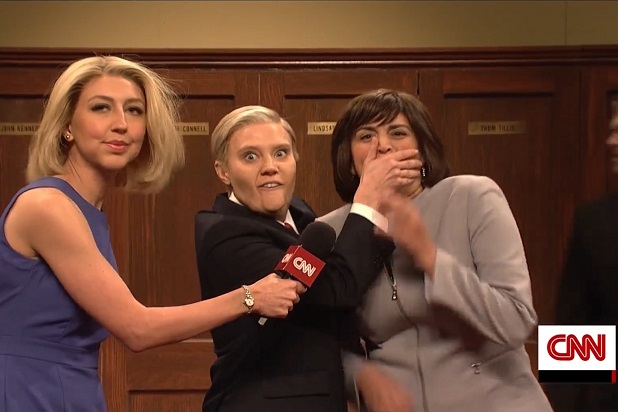 "SNL" spent its 43rd season firing away at American politics and culture, with no shortage of ammunition coming from Donald Trump and the rest of the White House staff.
After a summer of reruns from Season 43, Season 44 of "SNL" is now in full swing. Last week, the show was hosted by Liev Schreiber, who was making his first appearance ever on "SNL." This week, for the Nov. 17 episode, the show will be hosted by longtime NBC staple Steve Carell, who starred in "The Office" for nine seasons. This will be the third "SNL" hosting gig for Carell, and the first since 2008.
The musical guest this week will be Ella Mai, the British R&B singer whose single "Boo'd Up" reached no. 5 on Billboard's Hot 100 chart, and whose self-titled debut album topped the R&B chart last month.
The 44th season of "SNL" kicked off with an episode that made waves for multiple reasons, largely thanks to a special guest appearance by Matt Damon, playing Supreme Court nominee Brett Kavanaugh, and musical guest Kaney West wearing a "Make America Great Again" hat on stage and giving a pro-Donald Trump speech that didn't air. Cast member Pete Davidson addressed West's pro-Trump speech during the "Weekend Update" portion of the Oct. 6 episode the following week.
Also Read: The 20 Best Sketches of 'SNL' Season 43 Ranked (Photos)
The political bent has continued throughout the season. Ahead of the midterm elections, we got a cold open sketch that parodied Fox News' hysterical coverage of the immigrant caravan ahead of this week's midterm elections. The sketch saw cast member Kate McKinnon playing "Ingraham Angle" host Laura Ingraham, with guest appearances by Kenan Thompson as right-wing former sheriff David Clarke and Cecily Strong popping up as "Judge" Jeanine Pirro. The three took turns spouting false narratives about the caravan and presenting videos of things like a mob of Black Friday shoppers and crabs scrambling around on a beach as being footage of the caravan.
Then, last week, we saw Robert Di Nero pop up again as special counsel Robert Mueller to bid farewell to Kate McKinnon's still tremendously impression Jeff Sessions impersonation.
Season 44 has featured the expected emphasis on politics, and a special guest appearance to rival the surprises of Season 43 in Damon. With Seth Meyers hosting last week, it continues a trend from last season, which saw a number of "SNL" alumni returning as hosts and making guest appearances. Season 43's finale was one such episode with a returning cast member taking the helm: alumna Tina Fey as host, with musical guest was Nicki Minaj.
Other bygone "SNL" cast members hosting in Season 43 included Bill Hader, who led the March 17 episode. It also featured a guest appearance by former "SNL" cast member Fred Armisen, playing "Fire and Fury" author Michael Wolff. John Goodman also made a surprise appearance, playing former Secretary of State Rex Tillerson.
Also Read: 'SNL': Kate McKinnon's Laura Ingraham Reminds You Not to Vote, Mocks Alec Baldwin (Video)
Stand-up comic and former "SNL" writer John Mulaney hosted an episode that included a big guest appearance surprise as well — its cold open featured Ben Stiller and Robert De Niro, playing Donald Trump's personal lawyer Michael Cohen and Special Counsel Robert Mueller, respectively. The pair did a political sketch riffing on their hit comedy, "Meet the Parents." It was Stiller's first appearance as Cohen, a role he returned to several times throughout the last few months of Season 43. The season finale saw the return of both Stiller and De Niro as Cohen and Mueller, joining Alec Baldwin as Trump, Kate McKinnon as Rudy Giuliani, and Mikey Day as Donald Trump Jr.
Will Ferrell, who left the show way back in 2002, also played host this season. His Jan. 27 episode marked Ferrell's fourth turn as host for the show in the last 16 years, and his first return to lead the show since 2012. Singer-songwriter Chris Stapleton took on the role of musical guest.