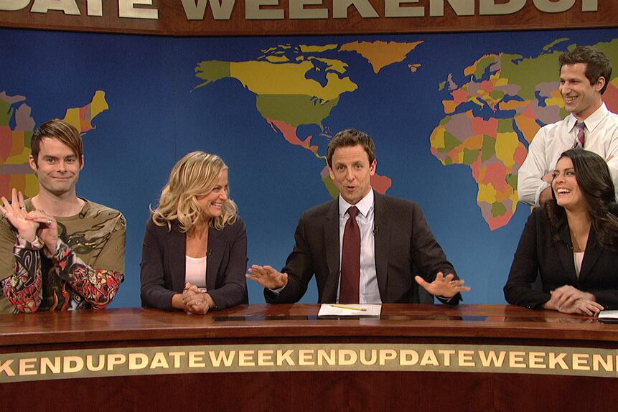 Amy Poehler, Andy Samberg and Bill Hader — playing Stefon — bid goodbye to Seth Meyers in his final episode of "Saturday Night Live" as a member of the cast. Fred Armisen also provided a cameo.
Meyers, who takes over NBC's "Late Night" this month, began his final "Weekend Update" in his usual understated manner. In between dropping topical jokes, Meyers welcomed new Update character, Buford Calloway (Taran Killam), who griped about the snow that plagued the South this week with a lovely drawl.
See also: Seth Meyers 'SNL' Departure: 11 of the 'Weekend Update' Anchor's Top Moments (Video)
But when Meyers told his final joke — about weed — co-anchor Cecily Strong brought out former "Update" co-anchor, Poehler, and Meyers' "SNL" husband, Stefon. After some kind words, jokes, and weird references, Samberg joined the gang to sing a little Boyz II Men.
"This is the job I always wanted, and I had the best time," a choking up Meyers concluded, thanking the crowd and his colleagues. For a final laugh, Armisen wandered blindly in front of the camera, reprising his role as former New York Governor David Paterson.
Meyers' first "Late Night" will be on Feb. 24, when his initial guest will be Poehler. Jimmy Fallon, who leaves the 12:35 a.m. show, is taking over "The Tonight Show" a week earlier.
See video: Meet Colin Jost: New 'SNL' Weekend Update Anchor Puts His Standup Chops to the Test
Melissa McCarthy hosted the sketch comedy show for the third time. Imagine Dragons were the musical guests.
The episode opened with a mock Super Bowl XLVIII halftime spectacular, featuring Broadway stars. Killam was a mustachioed Peyton Manning, and Kenan Thompson a top-hatted Richard Sherman. Sunday's game will likely play out very differently.
Next, McCarthy's opening monologue took to the skies above Studio 8H, as she and cast member Bobby Moynihan fought to the death while suspended from cables. Naturally, the host won the messy tussle, which featured a throwing star landing in Thompson's forehead.
See video: SNL: Leonardo DiCaprio Crashes Jonah Hill's Monologue – And They Do the Flying Scene From 'Titanic'!
A  faux commercial followed for pharmacy chain CVS, encouraging last-minute male shoppers to pick their wonderful girlfriends up "some dumb little thing" from the neighborhood staple.
The best sketch of the night was a skit which featured Jay Pharoah, Thompson, and new cast member Sasheer Zamata rapping/singing about 28 reasons to celebrate Black History Month and hug a black person. Reason 1: "We Deserve a Chance." Reason 2-28: "Slavery."
Other notable sketches of the night include McCarthy reprising her Sheila Kelly role, this time as an abusive and dangerous politician a la Staten Island Rep. Michael Grimm, and Kyle Mooney doing his weird Kyle Mooney thing from Times Square, interviewing football fans from the midtown Super Bowl experience.
See video: Seth Meyers Gives Tour of New 'Late Night' Studio in First Promo
But of course, the night belonged to Meyers — most of the sketches that aired after his Weekend Update sign-off never stood a chance.
The soon-to-be "Late Night" host was in the front of the pack as McCarthy did her post-show thank you and goodbyes, the camera zooming in on a waving and clearly moved Meyers, hugging and kissing old and new friends.
Watch videos of Meyers' Weekend Update farewell and the other choice moments of the night: