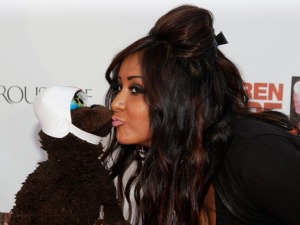 Nicole "Snooki" Polizzi hit the back of an Italian police car while driving a Fiat Multipla during filming of "Jersey Shore" in Florence, and two Italian police officers were taken to a hospital, People reports.
Despite Polizzi's well-documented history of overindulging, no alcohol was involved, People said.
See also: Watch the Snooki-Ball Drop (Video)
Fellow cast member Deena Nicole Cortese and a member of the show's production team were also in the car when Snooki crashed into the back of the traffic patrol car. The officers were treated for whiplash, bruises and cuts.
Polizzi was taken to the police station to fill out an accident report, but she and Cortese turned down medical treatment.