I am a horror junkie. I have seen it all, read it all, and for most of my life, I have been totally consumed with all things horror. So it was no surprise to anyone, certainly not me, that my first feature would be a horror film. Naturally.
But there was a problem. Horror has, in my opinion and with the rare exception, lost a lot of what attracted me to it in the first place. It has become formulaic and predictable. Even the 'twist within a twist' plot lines have felt stale to me for years and most offer little in the way of true surprise.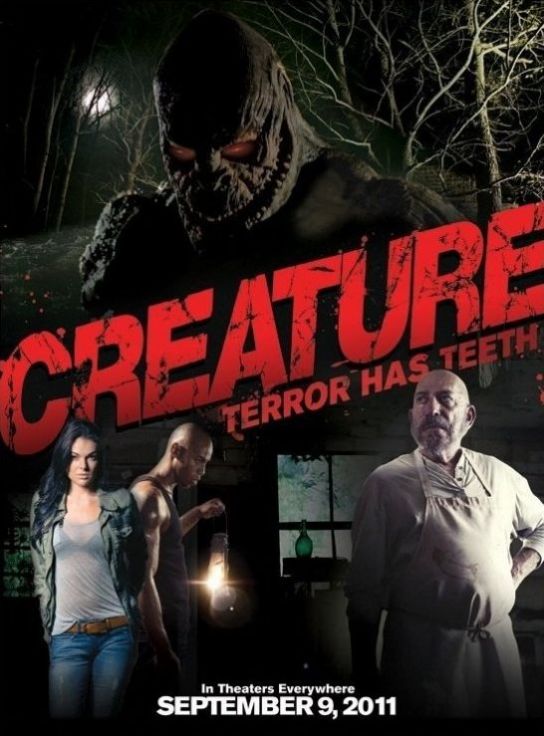 And I don't think I need to mention the abundance of remakes fans have been subjected too over the past few years. I can name but a handful of films in the past 10 years that gave me that feeling I had when I was a kid; when horror was fresh, new, and altogether unsettling.
I wanted to do something different, something unexpected. The result is my film "Creature," which opens wide this weekend.
When I started working on the film, I knew I would not be satisfied simply having Lockjaw, the title character, be a mindless, ravaging beastie with a penchant for snacking on unsuspecting drug addled, over sexed teens. So I set out to create a monster that was more than just teeth and blind rage.
I never imagined that I would find myself delving so deeply into the backstory of the title character, Lockjaw, that I would, in the end, center the entire film around it. I mean, after all, he is only a monster, right? But monsters for a writer can be a tricky breed, and the good ones have minds of their own.
The more I got into writing the character of Lockjaw, the more I realized that just creating a backstory wasn't enough; I needed to create a legend.
Before I continue I have a confession: I am from the south, North Carolina to be exact. I know what you're thinking, but I still have all my teeth and no, I can't play the banjo. Being southern, I had the benefit of growing up hearing the wildest folktales, legends and ghost stories you could imagine.
These folktales, legends, had been passed down for generations and every family had their own versions of them; most of which did not involve a rabbit, a bear, or a fox. In fact, quite allot of these stories involved legendary creatures that lived in the hills, the woods, or the swamps. Brutal visages of evil that would snatch children while they slept or un-dead monstrosities coaxed from their eternal slumber to seek revenge on someone for stealing a pig. They were terrifying to a kid with an overactive imagination.
To a writer they were pure inspirational gold.
This is the type of story I wanted to tell with "Creature," and those terrifying monsters of my childhood were to be what I modeled 'Lockjaw' on. So I started doing my research, really digging into these southern folktales. What I found was something old. Something scary. Something surprising. And something very southern. What I found was Louisiana.
"Creature" is set in the bayous and swamps of Louisiana. There is just something primal about this area. It is a harsh landscape full of beauty and decay. And once you enter the backwoods it makes the hairs on the back of your neck stand up because your animal brain knows the swamp is alive and it's hungry.
Everything in this backwoods can bite, chase and eat you, seriously. It's the perfect setting for a monster because once you have been there you realize it could be true. In fact it just might be.
The coastal swamps of Louisiana are steeped in folktales and local legends involving all kinds of monsters. Many of these tales are the products of Cajun folklore. One is the Letiche, a ghoulish creature that was supposedly an abandoned, illegitimate child who was reared by alligators, and now has scaly skin, webbed hands and feet, and luminous green eyes.
Then there is the Loup Garou (a werewolf) and the flesh eating zombies that lay in wait just below the stagnant waters of the swamps. Every small town between New Orleans and Baton Rouge has their own particular flavor of creature tromping through their neck of the swamps. The most famous of these would be the Honey Island Swamp Monster. This bigfoot like creature is said to be over 7 feet tall with a foul, sulfurous odor and glowing red eyes. Honey Island is located between New Orleans and Baton Rouge in a town called Slydel.
The Honey Island swamp itself is over 70,000 acres of pristine swamp. I visited this area and was blown away by my surroundings. It was the perfect territory for a legendary creature like ' Lockjaw' to call home.
The Honey Island Swamp Monster appealed to me and was very inspirational. It had been called a "Southern fried version of Bigfoot," and that stuck. However it was the stories the locals outside of Baton Rouge told of the Letiche that made my skin crawl. I mean a human that was raised by alligators bred with them and thus became a hybrid of both man and reptile; awesome!
I pondered what effect this beast would have on the tight knit coastal communities such as Cajun families that have lived in those swamps since the late 1800s. It was starting to click and my legend was taking shape. Everything in these swamps is connected in the cycle of life and death. If a creature such as the Letiche or the southern version of Bigfoot did roam these backwoods, and to hear the locals talk they swear it does, the people who live here would know about it; respect it for what it was, and in some cases possibly worship it like the Druids worshiped other aspects of nature.
Thus the tale of Lockjaw took on a new form. 'Lockjaw' was shaped by eyewitness accounts and steeped in local legend. A beast that was feared and respected by those who lived within his territory, and worshipped by those who sought to exploit his potential. The result is my film "Creature."
A modern folktale that just might be true but definitely is the stuff of legend.