A movie's commercial prospects don't usually rise and fall with its subject's polling numbers, but the best news for Richard Tanne's "Southside With You" is that Barack Obama's approval ratings continue to climb.
Tanne's first feature offers a lightly fictionalized version of the first romantic encounter between Barack (Parker Sawyers), a 27-year-old summer associate at a prestigious Chicago law firm, and Michelle Robinson (Tika Sumpter), a first-year associate who's put dating on hold to focus on her career.
That outline alone will be enough to turn away many politically conservative viewers, and even die-hard Obama supporters may blanch at the idea of a breezy rom-com starring a sitting president. But "Southside" fortunately goes light on POTUS/FLOTUS fan-fiction, offering only a few nods to the future Obamas' accomplishments.
See Video: New 'Southside With You' Trailer Shows the Obamas' First Date
Historically, the closest analogue to "Southside With You" might be "PT 109," the 1963 tale of World War II heroism starring Cliff Robertson as then-president John F. Kennedy. But its real cinematic ancestor is Richard Linklater's "Before" trilogy, mixed with a dash of Barry Jenkins' "Medicine for Melancholy." Like those movies, "Southside" is stretched over the course of a single day, following a extended rendezvous that, according to Barack's plan and over Michelle's steadily softening objections, gradually turns into a first date.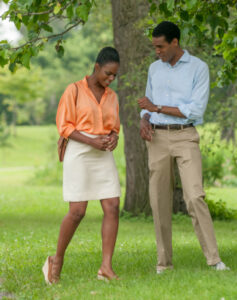 History tells us they'll end up together, but Sawyer and Sumpter play out the future First Couple's evolving rapport with understated skill and easy grace, right down to their famous first kiss over chocolate ice cream.
Sawyer doesn't do an impression, but he inhabits the young Barack's determination and decency, as well as his occasionally overbearing intellect. (Those hoping for "Portrait of a Young Socialist Overlord" will have to seek refuge in the latest Dinesh D'Souza doc.)
Sumpter's Michelle studies him with a skeptical air, suspicious of both his motives and his character. Their conversations are sparring matches, sometimes playful and sometimes pointed, and often turn to the subject of black Americans' larger responsibilities.
See Video: How 'Southside With You' Stars Drew Inspiration From the Obamas' Relationship (Exclusive)
They're both self-conscious members of the talented tenth, although Michelle is more focused on climbing the ladder at her corporate law firm and Barack, already a community organizer, has his eyes on a bigger prize. We already know who wins this argument, but Tanne, who is white, doesn't stack the deck unduly in Barack's favor: Young Mr. Obama's high-minded ideals can seem naive to the point of blindness, especially when they're paired with the way he tricks Michelle -- who is smartly determined to avoid dating colleagues, especially one of the few other people of color at her largely white firm -- into stepping out with him.
Those so inclined could easily extrapolate a presidency whose lofty principles and backdoor tactics often seem to inhabit different universes entirely, although the most controversial statement Barack makes in the movie itself is that he dislikes pie.
"Southside With You" is, however, more intently focused on the politics of culture than the culture of politics. As Michelle tries to hold her ground, Barack steers her to an exhibit of paintings by the African-American artist Ernie Barnes, whose "The Sugar Shack" became iconic with its use on the sitcom "Good Times."
At a bar, they argue over Stevie Wonder's best album, and Barack is introduced in a rusted-out Datsun blasting Janet Jackson's "Miss You Much." For all its presidential trappings, the movie is most powerful as a straightforward romance with two endlessly charming black leads, of a kind that, as far as movies go, is outrageously rare.
Also Read: Obama Drops Summer Playlist: From Jay-Z and Chance the Rapper, to Beach Boys and Janet Jackson
One might question why, if the movie is a simple first-date story, it needs to involve the future president and first lady, but one might also look at its near-total lack of precursors and suggest that if it weren't about one of the world's most famous black couples, it would likely not have been made at all.
"Southside With You" will be an asterisk in Obama's presidential legacy, but enabling a black love story to be told with such lightness and simplicity may be one of his most lasting gifts.