The Scoggins Report is The Wrap's bi-weekly analysis of the feature film development business. To download the PDF of this week's edition and receive early PDF editions in the future, sign up for Jason's mailing list via the form at the bottom of ItsontheGrid.com, a division of The Wrap. You can follow IOTG's Twitter feed here, and the Facebook page is here.
*****
It's like we're psychic or something: In the last Scoggins Report we suggested June's numbers would end strong. As if on cue, a flurry of spec sales were announced this week as everyone in town prepared to decamp for the long weekend. As you'll see in a couple of weeks on the next Scorecard, June ended up with the third-highest number of monthly sales so far this year, crushing April's and May's numbers.
Here are the highlights:
• Three studios bought two specs each in June (Columbia, Paramount and Warner Bros.). Columbia's still in the lead for the year with seven spec sales, but Warner Bros. is now close behind with six.
• Three new non-studio buyers got into the game for the first time this year (Arclight Films, Sidney Kimmel Entertainment and MPCA), with one purchase each.
• CAA ended the spring selling season in fine form: Their three spec sales in June jumped the agency into a tie for second place with WME, with eight spec sales each so far in 2011. UTA remains in the lead with nine.
Here are June's numbers: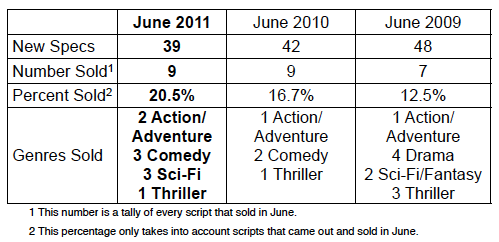 Have a fantastic weekend everyone.
Weekly Activity Breakdown
Week of May 30:
• 5 scripts hit the tracking boards (including 3 prior to June 1), none of which sold
• 1 additional sale was reported ("Sex Tape")
Week of June 6:
• 15 scripts hit the boards, none of which sold
Week of June 13:
• 5 scripts hit the boards, 1 of which sold ("Bastards")
• 1 additional sale was reported ("Arthur & Lancelot")
Week of June 20:
• 8 scripts hit the tracking boards
• 1 additional sale was reported ("Abducted")
Week of June 27 (run-up to Independence Day):
• 2 scripts hit the boards, none of which sold
• 5 additional sales were reported ("Borrowing Girls," "Cristo," "Into Darkness," "Singularity" and "Virgin Territory")
Genre Breakdown*
Spec Sales (alphabetical by title)
Abducted
Writer: John Heffernan
Reps: ICM and Realm Management (Brian Spink)
Buyer: Paramount
Genre: Action/Sci-Fi
Attachments: Disruption Entertainment's Mary Parent and Cale Boyter will produce along with Realm's Brian Spink and Benderspink's Chris Bender and JC Spink.
Arthur & Lancelot
Writer: David Dobkin
Reps: CAA (Dan Aloni, Gregory McKnight)
Buyer: Warner Bros.
Genre: Action/Adventure
Attachments: Dobkin will direct and produce through his Big Kid Pictures along with Wigram Productions' Lionel Wigram.
Notes: Project will be overseen by Lynn Harris for Warner Bros. and Greg Garthe and Jeff Kleeman for Big Kid. Dobkin previously had a King Arthur project set up at Warner Bros. which we originally logged in January 2010.
Bastards
Writer: Justin Malen
Reps: Verve (Rob Herting, Bill Weinstein) and H2F (Chris Fenton)
Buyer: Paramount
Genre: Comedy
Attachments: The Montecito Picture Company and H2F will produce.
Borrowing Girls
Writer: David Schickler
Reps: CAA (Shari Smiley) and The Gotham Group (Jim Garavente)
Buyer: Sidney Kimmel Entertainment
Genre: Thriller
Attachments: Gotham's Ellen Goldsmith-Vein, Jim Garavente and Lee Stollman will produce with Kimmel's Sidney Kimmel and Matt Berenson. Kimmel's Jim Tauber will executive produce.
Cristo
Writer: Ian Shorr
Reps: UTA and Benderspink (Langley Perer)
Buyer: Warner Bros.
Genre: Adventure
Attachments: Kevin McCormick's Langley Park will produce. Momentum Productions' John Zaozirny and Bobby Sabelhaus will executive produce.
Notes: Matt Cherniss will oversee for the studio. Project is a futuristic take on the Alexandre Dumas classic The Count of Monte Cristo.
Into Darkness
Writers: Tony Giglio & Branden Morgan
Reps: Paradigm, Principato-Young, and New Wave (Josh Adler, Mike Goldberg)
Buyer: Arclight Films
Genre: Sci-Fi
Attachments: Radar's Mike Weber and Ted Field will produce. Peter Cornwell ("The Haunting in Connecticut") is set to direct.
Notes: The script is loosely based on Joseph Conrad's Heart of Darkness.
Sex Tape
Writer: Kate Angelo
Reps: UTA (Jason Burns, Dan Erlij, Jay Sures)
Buyer: Columbia
Genre: Comedy
Attachments: Escape Artists' Todd Black, Jason Blumenthal, and Steve Tisch will produce.
Notes: Andrea Giannetti and Adam Milano will oversee for the studio.
Singularity
Writers: Roland Emmerich & Harald Kloser
Reps: CAA
Buyer: Columbia
Genre: Sci-Fi/Action
Attachments: Emmerich will direct and produce with Kloser.
Notes: Logline is being closely held, but it's based on the concept popularized by Ray Kurzweil and other futurists. Release date is already set for 5/17/13.
Virgin Territory
Writer: Adam Davis
Reps: Benderspink (Jill McElroy, JC Spink)
Buyer: MPCA
Genre: Comedy
Attachments: Benderspink's McElroy and Spink will produce with Beau Bauman and Matt Steucken.
Notes: Script went out in May 2011.
*****
If the above is your cup of tea, you'll love the ItsontheGrid.com blog, where we post highlights of recent additions and changes to the database. Buttons to subscribe to the blog's feed are right where you'd expect them.