Updated – 11:05 a.m. Dec. 23, 2010
As of Thursday morning, "Spider-Man" still looks to swing into action for an evening performance.
The show, which went dark Wednesday, has put new safety procedures in place to prevent any further accidents such as the one that left stuntman Chris Tierney hospitalized after an onstage fall on Monday from happening again.
That means the show could be on again for "Spider-Man: Turn of the Dark" – if New York state gives the green light. "We agreed with what they delivered to us — the safety measures and protocols that they're going to implement," NY State Department of Labor spokesman Leo Rosales told the Associated Press. "Now it's up to them to implement it. We need that confirmation from them that yes, they have implemented all the safety protocols and procedures."
The final OK could come Thursday afternoon.
Earlier –
Now Wednesday night's show has been canceled! Can "Spider-Man: Turn Off the Dark" ever escape its tangled web?
It hasn't even opened on Broadway yet, and the $65 million Spidey musical already is becoming one of the biggest theatrical disasters in history — with cast injuries, rewrites, dark nights and reports that even its investors are weighing cutting and running.
Originally set to open on Feb. 25, 2010– with an impressive pedigree that includes music by U2's Bono and the Edge and the vision of "Lion King" director Julie Taymor — now it won't officially part its curtain until nearly a year later, Feb. 7, 2011.
Maybe.
Also read: Broadway Star on 'Spider-Man' — 'Does Someone Have to Die?'
Here's a look at "Spider-Man"s' whole tumultuous history.
July 2007: Script readings held … Get out now!
August 2009: Work suspended a month due to cash-flow problems. The price tag at this point reportedly sits at $25 million.
November 2009: Bono taps Michael Cohl to produce, raise money. Cohl previously oversaw a $30 million musical adaptation of "The Lord of the Rings" that bombed spectacularly, never reaching Broadway.
November 7, 2009: Rocker Reeve Carney named to play Spider-Man. Carney also appears in Taymor's big-screen adaptation of "The Tempest."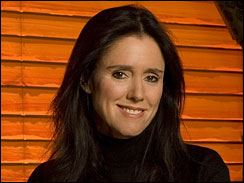 Feb. 18, 2010: The musical's opening at Broadway's Foxwoods Theater is delayed due to, yes, lack of funds. Previews had been originally scheduled to start on Jan. 16.
May 2010: Stars Alan Cumming and Evan Rachel Wood depart because production delays have caused scheduling conflicts.
July 21, 2010: Choreography rehearsals start, with full cast rehearsals kicking off on Aug. 16.
August 10, 2010: Producers announce that previews will begin on Nov. 14 with 1 Dec. 21 opening.
Oct. 29, 2010: Two actors are injured performing an elaborate aerial slingshot stunt. One breaks his wrists, the other breaks both of his feet.
Nov. 2010: The show's price tage rises to $65 million, making it the most expensive show in Broadway history, amid reports that it will cost $1 million a week to produce.
Nov. 4, 2010: The opening is pushed back three weeks to Jan. 11 to deal with technical difficulties.
Nov. 28 2010: First official preview includes five delays because of technical problems and a premature end to Act 1, while an actor is stuck dangling above the audience.
Nov. 29, 2010: Reports surface that athe Foxwoods Theater has been contacting other Broadway producers to see if they had productions that could be used as a back-up should "Spider-Man" fizzle. "Spider-Man" producers had been hoping the show would run at Foxwoods for years to recoup its costs.
Dec. 2010: Reviews aren't technically scheduled to be published during previews, but the early verdict on the show is, at best, mixed. Some praise its Cirque du Soleil effects, while others describe it as unmemorable save for the occasional accident.
Dec. 3, 2010: Natalie Mendoza, who plays the villain Arachne, suffers a concussion after being struck in the head by a rope holding a piece of equipment.
Dec. 2010: Conan O'Brien and "Saturday Night Live" both air parodies making fun of the show's injury problems.
Dec. 16, 2010: Opening is pushed back again, to February to allow time for rewrites, an all-new new finale and additional music and dialogue. Taymor admits Act II is confusing and may need to be rewritten
Dec. 20, 2010: Aerialist Chris Tierney is hospitalized after he falls up to 30 feet off a ramp into the pit of the Foxwood. The state Department of Labor, the federal Occupational Health and Safety Administration and the FDNY investigate.
Dec. 22, 2010: Investors reportedly weigh pulling out of the show as concerns about injuries mount. Tony winner Alice Ripley and "Rent" star Adam Pascal slam the show's production team for disregarding actors' safety.
Dec. 22, 2010: The Wednesday night show is canceled as the producers release the following statement : "SPIDER-MAN Turn Off The Dark, Occupational Safety and Health Administration, and the New York State Department of Labor have agreed on the implementation of additional protocols which will be rehearsed today and this evening … Performances will resume tomorrow evening (Thursday)."