Is Steven Spielberg going to be the king of the world on Oscar night, 2012?
If not, how about Martin Scorsese or Clint Eastwood or David Fincher or Jason Reitman?
All of those directors have films waiting to be unveiled before the end of the year – and with the fall film festival's leaving many key questions about this year's Oscar race unanswered, they're part of an unusually large crop of filmmakers who have prime opportunities to step up and seize awards momentum.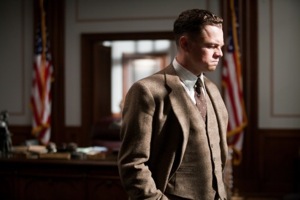 And they're not the only ones.
Other top directors with new films waiting in the wings include Roman Polanski, Cameron Crowe, Stephen Daldry, Tomas Alfredson and more.
They're all looking to join a slate of Best Picture contenders that for now includes Cannes debuts "The Tree of Life," "Midnight in Paris" and "The Artist," summer releases "The Help" and maybe "Harry Potter," and Toronto and Telluride entries "The Descendants," "Moneyball," "The Ides of March" and a few others. (I'd love to throw "Melancholia" and "Martha Marcy May Marlene" and "We Need to Talk About Kevin" and a few others into the mix as well.)
That's enough to fill out a slate of nominees – but so far, nothing has the feel of a winner. (Yes, I picked "The Descendants" to win before I saw it, and for now I'm keeping it at the top of my list.) So what's left?
Here's what's waiting in the wings, by release date:
"My Week With Marilyn" (Simon Curtis; the Weinstein Co., Nov. 4)
Curtis has a directorial resume filled exclusively with television productions; his look at the making of the 1957 Marilyn Monroe/Laurence Olivier film "The Prince and the Showgirl" is one of several year-end entries that seems more likely to serve as the source of an Oscar-nominated performance than to be a Best-Picture contender.
In this case, the verdict should arrive relatively soon: the film will serve as a centerpiece attraction at the New York Film Festival on Oct. 9, when we'll see if the serious buzz surrounding Michelle Williams' performance as Monroe will rub off on the film itself.
"J. Edgar" (Clint Eastwood; Warner Bros., Nov. 9) (photo at top)
On paper, it looks to be a slam dunk: two-time Best Picture winner Eastwood ("Unforgiven," "Million Dollar Baby") telling a true story (you know, like "A Beautiful Mind" or "The King's Speech") about J. Edgar Hoover. But Eastwood's last few films have not exactly been embraced by the Academy: "Hereafter," "Invictus," "Gran Torino" and "Changeling" were all non-starters at the Oscars, making the director 0-for-4 since his nomination for "Letters from Iwo Jima" in 2006.
There's certainly buzz around Leonardo DiCaprio's performance in the title role, as well as for Judi Dench (as Hoover's mother) and Armie Hammer (as his aide and "friend" Clyde Tolson). I don't yet trust the prevalent assumption that the film itself will be a nominee, but Dustin Lance Black's last based-on-a-true-story biopic, "Milk," got eight Oscar nominations and two wins, and Eastwood is absolutely capable of proving me wrong.
"Hugo" (Martin Scorsese; Paramount, Nov. 23)
Can a kids' movie, in 3D no less, be a real Best Picture contender? If it's Martin Scorsese embracing the technology and adapting an imaginative book that wraps an adventure story inside an ode to the early silent cinema pioneer Georges Melies, maybe it can.
The advance word I've heard on "Hugo" (based on the Brian Selznick book "The Invention of Hugo Cabret") ranges from "no way" to "masterpiece." As a big fan of the book (and a big 3D skeptic), I really hope it's the latter. But I can't quite bring myself to put it on my Oscar prediction lists until I see it.
"Tinker, Tailor, Soldier, Spy"(Tomas Alfredson; Focus Features, Dec. 9)
I have seen this one, which premiered at the Venice Film Festival and has screened for some press in the last couple of weeks. I would advise, though, that viewers not see this version of the John LeCarre spy novel the way I did, with a head cold: this is a dense, deliberate, tightly-plotted film that requires close concentration, not a Sudafed haze.
As semi-retired British spy George Smiley, Gary Oldman is understated but mesmerizing; his is one of several noteworthy 2011 performances marked not by Oscar-bait theatrics, but for restraint and subtlety. (George Clooney in "The Descendants," Brad Pitt in "Moneyball" and Glenn Close in "Albert Nobbs" fall into the same camp.)
"Tinker Tailor" is going to need a thoughtful, attentive audience, preferably one that watches it in the dark of a theater rather than the distractions of a living room. And it'll need support from the sizeable British contingent of the Academy. But Alfredson ("Let the Right One In") is a master of mood, and his film is thoughtful, smart and quietly engrossing.
"The Iron Lady"(Phyllida Lloyd; the Weinstein Co., Dec. 16)
Yes, Meryl Streep as Margaret Thatcher seemed an Oscar natural even before the photos and trailer were released. And yes, she still seems to have all-but-guaranteed herself a Best Actress nomination playing Britain's controversial prime minister.
But will the film itself follow its leading lady into the Oscar arena? I have serious trouble envisioning that, because I just can't imagine British theater director Phyllida Lloyd suddenly developing skills that were completely missing from her first feature film, the fabulously successful and seriously wretched Abba musical "Mamma Mia!" The film may also be hurt by the fact that Thatcher's supporters have already blasted the script for inaccuracies, while her foes likely won't like the idea of a biopic at all.
Still, "The Iron Lady" will always have Meryl.
"Carnage" (Roman Polanski; Sony Pictures Classics, Dec. 16)
Polanski's version of the stage play "God of Carnage" played at the Venice Film Festival, where the reviews were mostly positive but rarely rapturous. A mean, acid-etched portrait of two families drawn together by their kids' schoolyard conflict, the source material has some blackly comic moments – but there's nothing friendly about it, and Polanski has by all reports not toned down the bile.
Jodie Foster, John C.Reilly, Christoph Waltz and Kate Winslet star in the film, which takes place entirely inside a New York apartment (but was shot in Paris). Waltz and Foster got the biggest buzz out of Venice, where I surveyed the reviews and summed up the consensus this way: "it's solid, it's nasty, it's fast (78 minutes) and you never forget that it's a play … not, let's face it, the stuff that Best-Picture dreams are made of." "Carnage" opens the New York Film Festival on Friday.
"Young Adult" (Jason Reitman; Paramount, Dec. 16)
It came as something of a surprise that Reitman didn't premiere his film at Toronto, where his previous films "Juno" and "Up in the Air" screened and where the plaza in front of festival headquarters is named for his family. But the director came out of TIFF as a frontrunner with "Up in the Air" two years ago and found the film couldn't sustain its momentum for the long season, so he may be smart to hold "Young Adult" until later in the year. (Paramount has given the film a slot similar to last year's for "The Fighter," which landed seven nominations.)
Starring Charlize Theron as a writer of young adult fiction who returns to her hometown to woo her (married) high school sweetheart, the film was written by "Juno" screenwriter Diablo Cody but is reportedly darker and less crowd-pleasing than that movie. Reitman has compared the tone to "Greenberg" and "Rachel Getting Married" – which doesn't exactly put the film in Oscar's wheelhouse, but does make it an intriguing next step for the director.
With Best Picture nods for his last two films, Reitman is certainly a contender, and the murmurs I've heard about this one have been largely positive.
"The Girl With the Dragon Tattoo"(David Fincher; Sony, Dec. 21)
Fincher's version of the Stieg Larsson novel, which was already made into a well-received Swedish film only two years ago, is reportedly dark and violent and kinky. But the advance footage, particularly an extended eight-minute trailer that was unveiled a couple of weeks ago, also makes it look stylish and dramatic.
Maybe the film will be Fincher's genre exercise, a crowd-pleasing detour before he goes back to more substantial original material. Or maybe it'll be more than that: dark and violent the way Scorsese's Oscar-winning "The Departed" was, or dark and kinky the way Jonathan Demme's winner "The Silence of the Lambs" was.
Without having seen more than the eight minutes, and despite the fact that the movie might be easy to dismiss sight unseen as lesser Fincher, I have a feeling that "Dragon Tattoo" could be a major contender. The Academy has grown notably less prim and squeamish in recent years, and the director is certainly riding goodwill from last year, when his "The Social Network" swept the critics' awards but lost to "The King's Speech." This could well be Sony's third serious Best Picture contender, alongside "Moneyball" and "The Ides of March."
"We Bought a Zoo"(Cameron Crowe; 20th Century Fox, Dec. 23)
Crowe's last non-documentary film, "Elizabethtown," was a commercial and critical disappointment, and the Academy also ignored his film before that, "Vanilla Sky" (except for a nomination for Paul McCartney's title song). Still, word-of-mouth is strong on this Matt Damon/Scarlett Johansson comedy/drama mix, a reputed tear-jerker based on the true story of a British family that used its life savings to buy a zoo slated for demolition.
The big question is whether Crowe's open-hearted populism, which won over both audiences and Oscar voters with "Jerry Maguire" and "Almost Famous," will click with the Academy members, or whether the film will just be considered a commercial offering but not an awards play. In a year that seems unusually receptive to mainstream, major-studio productions, this one could find a way in.
"The Adventures of Tintin: The Secret of the Unicorn" (Steven Spielberg; Paramount, Dec. 23)
The year he won Best Picture and Best Director for "Schindler's List," Spielberg was also responsible for "Jurassic Park," which took home three Oscars in craft categories; the year he was nominated for Best Picture for "Munich," he also had the thrice-nominated "War of the Worlds."
2011 is another double-movie year for the director – and while "Tintin," a motion-capture adaptation of the French comic produced with Peter Jackson, is unlikely to be a major contender the way that Spielberg's "War Horse" may well be, it could certainly figure in those craft categories. And if it's magical enough (see: "Hugo"), who knows?
"Extremely Loud and Incredibly Close"(Stephen Daldry; Warner Bros./Paramount, Dec. 25)
I could see Daldry's version of the Jonathan Safran Foer novel falling flat and not being nominated; I could also see it winning on Oscar night. Sight unseen, this is one of the biggest wild cards of the fall and winter, an adaptation of a divisive book by a director whose last two films were nominated for Best Picture despite wildly disparate reviews.
Based on the novel about a young boy searching Manhattan for a lock that fits the key left to him by a father who died on Sept. 11, the film could be helped by 9/11 anniversary sentiment, and by the presence of Oscar favorites Tom Hanks and Sandra Bullock as the boy's parents. (Producer Scott Rudin and screenwriter Eric Roth also have strong track records with the Academy.) But Daldry ("The Reader," "The Hours") is tackling a book that in some circles was derided for its contrivances and sentimentality – and while those aren't always bad things in the eyes of Oscar voters, they're obstacles to the kind of critical approval the movie will probably need to get enough traction with voters.
"War Horse"(Steven Spielberg; DreamWorks, Dec. 28)
Just as James Cameron's "Avatar" was the last and biggest film to be unveiled two years ago, Spielberg's version of the Nick Stafford stage play (and the Michael Morpurgo book that preceded it) will be the final player to bow this year – and in some advance polls of Oscar-watchers, it has already been anointed as the frontrunner.
I'm not ready to go down that road just yet: as an adaptation of a children's novel told from the point of view of a horse in World War I, the film feels as if it could give uncomfortably full rein to Spielberg's sentimental side.
Still, that sentimental side has proven to be box-office and Oscar gold in the past, and tales set in and around wars have brought out the best in Spielberg. The film's trailer is replete with stunning shots, a stirring John Williams score and a commanding presence in French actor Niels Arestrup. So maybe I'm being foolish not to embrace the conventional wisdom that this is the one to beat.