"The Artist" was named the year's best independent feature at the Film Independent Spirit Awards on Saturday afternoon, continuing a dominant awards-season performance for the silent film that is expected to be the big winner at Sunday's Oscars as well.
The film also won awards for director Michel Hazanavicius, lead actor Jean Dujardin and cinematographer Guillaume Schiffman, taking home prizes in four of the five categories in which it was nominated.
Where the Indie Spirit Award voters often stay away from Oscar favorites, their choices this year went to a number of likely Academy Awards winners, including "The Artist," Dujardin and supporting actor Christopher Plummer from "Beginners."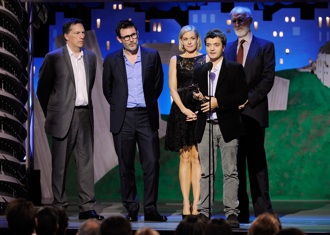 To many, "The Artist" was a surprise nominee because most Spirit Awards categories are open only to American-made films. It qualified because of partial U.S. financing and because director Michel Hazanavicus has permanent U.S. resident status.
Also read: Spirit Awards: Scenes From the Purple Carpet
Michelle Williams won the Best Female Lead award for her performance in "My Week With Marilyn," and thanked the "roomful of misfits, dropouts, loners … like me" in a typically heartfelt speech.
The supporting awards went to an Oscar favorite, Plummer, and an Oscar non-nominee, Shailene Woodley from "The Descendants."
"Pariah" won the John Cassavetes Award for a film made for less than $500,000, while "Margin Call" was named Best First Feature and Will Reiser won the Best First Screenplay award for "50/50."
Also read: Indie Spirit Awards: The Start of a Big Weekend for 'The Artist'?
"Margin Call" also won the Robert Altman Award, which was announced in December and which goes to a film's director, casting director and ensemble cast.
"The Descendants" was the only other film to win more than one award, with Woodley and a screenplay win for Alexander Payne, Nat Faxon and Jim Rash.
Steve James' acclaimed documentary "The Interrupters," which caused controversy when it didn't even make the Oscar documentary shortlist, was named Best Documentary (beating four other non-Oscar nominees).
"A Separation" won Best International Film, an award that last year went to "The King's Speech."
Four sponsored awards, which carried cash prizes, were announced at the Spirit Awards nominees' brunch in January.
Seth Rogen hosted the show, which he skewered in his opening monologue as being "completely inconsequential." Winning one, he said, "will get you absolutely nothing. It won't even raise your price, because it proves that you'll work for nothing."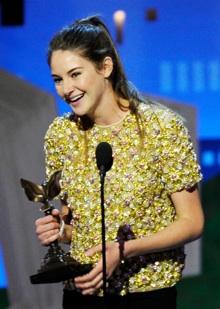 Best Feature: "The Artist"
Best Director: Michel Hazanavicius, "The Artist"
Best Screenplay: "The Descendants," Alexander Payne, Nat Faxon and Jim Rash
Best First Feature: "Margin Call"
Best First Screenplay: Will Reiser, "50/50"
John Cassavetes Award: "Pariah"
Best Female Lead: Michelle Williams, "My Week With Marilyn"
Best Male Lead: Jean Dujardin, "The Artist"
Best Supporting Female: Shailene Woodley, "The Descendants"
Best Supporting Male: Christopher Plummer, "Beginners"
Best Cinematography: Guillaume Schiffman, "The Artist"
Best Documentary: "The Interrupters"
Best International Film: "A Separation"
Robert Altman Award: "Margin Call" director JC Chandor, casting directors Tiffany Little Canfield and Bernard Telsey, and ensemble cast Penn Badgley, Simon Baker, Paul Bettany, Jeremy Irons, Mary McDonnell, Demi Moore, Zachary Quinto, Kevin Spacey and Stanley Tucci
Piaget Producers Award: Sophia Lin, "Take Shelter"
Audi Someone to Watch Award: Mark Jackson, "Without"
Nokia Truer Than Fiction Award: Heather Courtney, "Where Soldiers Come From"
Jameson FIND Your Audience Award: Benjamin Murray and Alyssa Nahmias, "Unfinished Spaces"
(Photos by Kevork Djansezian/Getty Images)