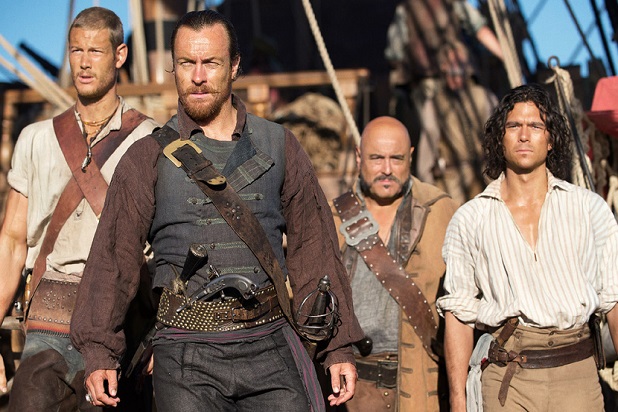 Starz has renewed its hit pirate series "Black Sails" for a fourth season, and has also put into development a new series called "Havana Quartet," starring Antonio Banderas, the premium streaming network announced Friday.
"Black Sails" is created by Jonathan E. Steinberg and Robert Levine and executive produced by Michael Bay, and his Platinum Dunes partners Brad Fuller and Andrew Form, as well as Chris Symes and Dan Shotz.
The ten-episode third season of the high seas drama series, returning in 2016, follows the most feared pirate of the day, Captain Flint (Toby Stephens), and takes place twenty years prior to Robert Louis Stevenson's classic "Treasure Island."
Also Read: 94 Summer TV Shows: TheWrap's Ultimate Viewing Guide (Photos)
Cuban writer Eduardo Machado will write the pilot of "Havana Quartet" and executive produce with Banderas alongside Peter Nadermann of Nadcon Film, as well as Jennifer Kawaja and Julia Sereny of Sienna Films. eOne will serve as the studio and produce the hour-long drama series, as well as distribute the show worldwide.
Based on the popular four-book series of detective novels "Havana Blue," "Havana Gold," "Havana Red" and "Havana Black" written by acclaimed Cuban novelist Leonardo Padura, "Havana Quartet" follows hard-drinking, romantic Cuban Police Detective Mario Conde (Banderas) who longs to be a writer but settled for a job as a detective.
Also Read: 'Divergent's' Ray Stevenson Joins Starz's 'Black Sails' as Iconic Pirate Blackbeard (Video)
"Starz continues to see great opportunity in continued programming diversification with many communities and genres," Starz CEO Chris Albrecht said in a statement. "Partnering with eOne to develop the drama series 'Havana Quartet' with international star Antonio Banderas will allow us to give viewers a premium show that highlights the decaying beauty of Cuba during its 'Special Period' – a time and place which tourists rarely got to experience."