Hey, SAG Awards. This is what happens when you pick your nominating committee members randomly.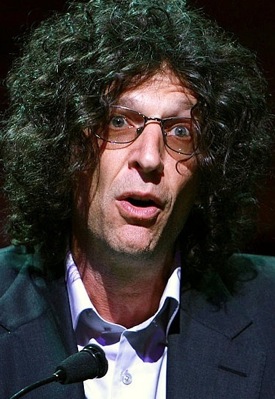 Not only did Howard Stern get in on the party this year, but — no surprise — he's abusing his privileges.
The radio host says he's using his slot to only vote for people who have appeared on his show.
"I'm going to take this seriously, and reward our friends. I don't give a s— if they were good or not," Stern announced on his radio show this morning, citing Kevin Bacon as someone who would earn his vote because he appeared on Stern's show. (Hear full discussion on his show.)
Each April, SAG randomly picks 2,100 of its more than 120,000 members to be on the nominating committee for film awards. Stern, who appeared in 1997's "Private Parts, was one of them this year.
"I haven't heard his comments yet," said Rosalind Jarrett, a spokesperson for the SAG awards. "The members of the nominating committee are charged with nominating what they believe are the outstanding performances of the year and we hope that all our nominating committee members vote in that spirit."
"I'll tell you why I feel special, because I'm getting all the movies and I've never been selected before," Stern said.
And the radio shock jock filled out his ballot, which is due on December 14, on the air Thursday morning — letting his listeners know why he was voting for the five people in each of the acting categories.
"I don't care if they're good actors, who gives a f— if someone can pretend to be somebody," Stern said.
Among the actors getting Stern's nod are Robert Downey Jr. for "Sherlock Holmes," Kevin Bacon for "My One and Only," Renee Zellweger for "My One and Only," and Sarah Jessica Parker for "Did You Hear About the Morgans?"
Perhaps most bizarre was the host's choice of Jimmy Fallon for his performance as Hot Tub Johnny Rocket in "Whip It."
Among the awards hopefuls not getting the host's vote were Robert De Niro, Daniel Day-Lewis, and Larry David, none of whom had been guest's on Stern's program.
"A lot of these people never fill these out because it takes time, and I was in a rush yesterday, but I said, 'I'm filling this out,'" Stern said.
Stern did divert from his established voting protocol on a few occasions; Zellwegger, for example, had never appeared on his program, but she had sent him a wedding gift and Parker had been nice to him at a party.
And the host was not without pity. Robin Wright Penn got his vote, because he felt bad for her because she was recently divorced from Sean Penn.
Kate Hudson also made Stern's list, but not for her performance in "Nine" or her appearance on Stern's show but because of her relationship with slugger Alex Rodriguez
"I gave her a thank you because the Yankees won," Stern said.