Taiwan's "face of Steve Jobs," Brook Hall, has a story to tell. And it's much bigger than one 21-second TV ad.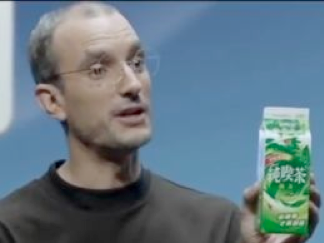 The ad? It was all smoke and mirrors, little wires and a great hair and make-up team in Taiwan, and the magic of television editing, according to American actor and director Hall, in Taiwan since 2001.
And no, he's not Steve Jobs, but a longtime expat Hall sure is a good lookalike for the Apple chief exec.
Hall, who plays the role of "Steve Jobs" in a popular tea drink commercial airing on Taiwan TV, is almost a dead ringer for the tech icon. The similiarity is so strong that the video has gone viral across the globe with over 185,000 hits on one YouTube channel created by Zenroll.
Although Hall has never been identified before as the lookalike Steve Jobs in the recent tea commercial, he now confirms it is indeed him.
However, he has a much bigger story to tell:
A tea company set up the advert, and it was part of an iPad giveaway the firm was sponsoring. The ad was not sponsored by Apple and Steve Jobs has not even seen it, most likely, according to sources.
From Hall's perspective, the Jobs gig was — in Hall's own words — "a fun three hours to try to imitate him… there was a great makeup and hair team, and little wires that pull your eyes and cheeks that can reshape your face a bit. I just studied the walk and the speech patterns."
But Hall has moved on, and while he is aware of the how the video has gone viral all over the world, he is concentrating on his work as a theater producer and director in Taiwan, where TV commercial gigs are just a part-time job (although he done over 60 of them over the past seven years).
True enough, the Taiwan TV ad video, just 21 seconds long, gained worldwide traction among Jobs watchers and bloggers everywhere from Taipei to Tiananmen, from Mountain View to Manhattan.
The TV ad made huge waves in the blogosphere in July — picked up by TechEye in London and BoingBoing (and first posted by Kara Swisher at AllThingsD on July 7) — giving Steve Jobs fans another viral video to file away in the doppelganger department.
But Brook Hall is much more than a one-time Steve Jobs lookalike TV advertisement actor, and in a recent email he explained that he has appeared in over 60 Taiwanese commercials over the past seven years. He came to Taiwan in 2001 and he's been here ever since.
The ''Steve Jobs'' gig was just one of many ads he has shot in Taipei.
"I've been played such characters in ads here as George Washington, Forrest Gump, Ronald Mcdonald, Kenny G and Bono — Neil Armstrong, too — as well as a lot of non-famous TV ad characters.
In an upcoming Sony camera campaign, "I am a scarecrow on stilts," Hall said.
In fact, Hall is a trained and experienced actor — he's done New York City and Broadway — and the TV ads he does in Taiwan, including the now-famous Jobs ad, are "all just a way to keep my days inteteresting."
Hall has seen plenty during his time in Taiwan.
"I was the director of a huge Taiwanese-language musical that got into the hands of politicians jockeying for control to use it for southern Taiwan campaigning," he recalls. "Their bickering led to all the producers betting their shirts, and the entire staff, cast, and crew came away empty handed — but not before a powerful show-stopping (literally) speech from the star to the audience in the middle of the show at the National Theater in Taipei."
This year of 2011 being ''Year 100'' in the history of the Republic of China, the official name for Taiwan, Hall is one of five directors selected to create festivities for the ROC's 100th birthday celebrations.
For the county of Changhua in southern Taiwan, which is hosting the all-Taiwan sports games to cap off its run-up to big 100 year celebrations in October, Hall was selected to co-directing the opening ceremony.
''Think 2000-plus performers mixing entertainment with local history and cultural traditions. It's going to be huge, Olympics huge, and I'm co-director," he says.
Hall has more on his plate, too.
A large entertainment company in Taipei is going to re-produce a Broadway musical that Hall directed at the National Concert Hall in 2010.
Says Hall: "It's going to be Taiwan's biggest English-language production ever and will see five Broadway stars here to join the local cast and crew — including Taiwanese celebrities. And hopefully, that will kick off an annual production — that the same company will produce to tour major cities in Asia."
Hall says that he had fun doing the Steve Jobs advert, but that it was just a three-hour shoot that he did months ago and is history now, as far he is concerned.
He's aware of all the links about the ad in the global blogosphere, but he is not concerned with the ad anymore, he says.
He wants to move on, and hopes the media will move on with him.
He's more interested in focusing on the future, and the good things coming up in his work as a producer and director in Taiwan's political and entertainment circles, and he now does not want to be the center of worldwide media attention "just because I look like Steve Jobs from a certain angle."
So now you know who the man was behind the famous "faux" Steve Jobs press conference ad on Taiwanese TV, and now you know what's in store for him in the near future, too. Stay tuned.
Brook Hall is on a roll. And he's got the role of a lifetime, too, as an enterprising and savvy expat in Taiwan's multi-cultural island mix.