"Paranormal Activity 4" is on course for a smaller-than-expected $33.5 million box-office weekend, after scaring up an estimated $15 million from 3,330 theaters Friday and Thursday night.
But Ben Affleck's political thriller "Argo" is off to a great start in its second week. It took in $5 million from 3,247 screens Friday and could finish the three days with close to $17 million, not far off the $19.4 million it took in last weekend.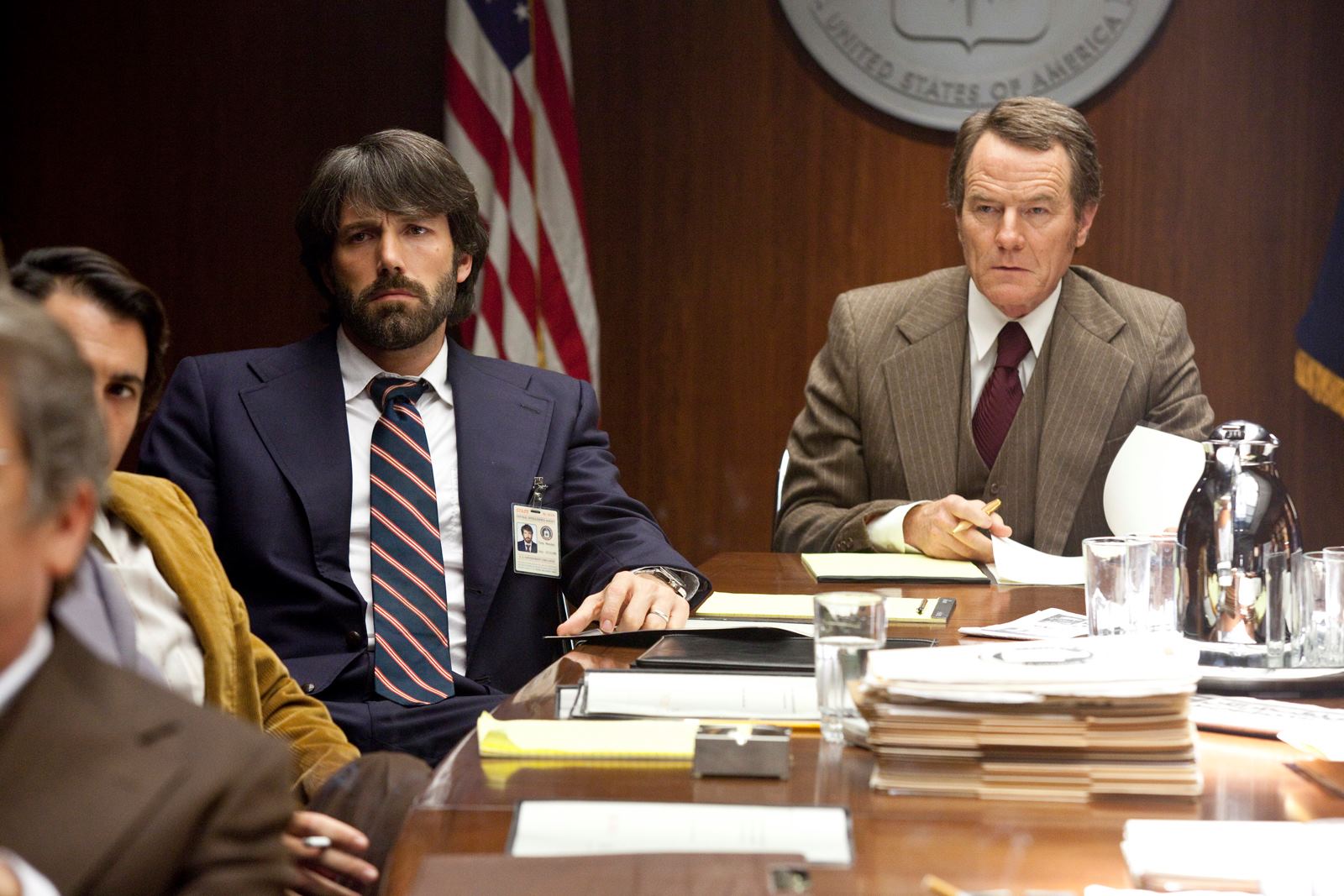 Also read: Ben Affleck: 'Argo' Is a 'Hard Movie to Sell' (Exclusive)
Warner Bros. had hoped the mature-skewing awards contender "Argo," which opening audiences gave a rare "A+" CinemaScore, would show staying power. The Friday number — off just 14 percent from its opening day — has to be encouraging. The domestic gross for "Argo," in which Affleck stars and directs, is $31.6 million. Its production budget was around $44 million.
If it stays on its current pace "Paranormal Activity 4" would wind up behind the bow of "Paranormal Activity 2," which debuted to $40.6 million in 2010, as well as last year's "Paranormal Activity 3, which bowed to $52.5 million.
Also read: 'Paranormal Activity 4': Were Critics Spooked – or Just Horrified?
Paramount was looking for between $35 million and $40 million and the analysts projected even more for the fourth entry in the found-footage franchise. But no matter where it lands, with a $5 million production budget, "Paranormal Activity 4" provides a bounty for the studio and producers Jason Blum and Oren Peli.
"Paranormal Activity 4" audiences, who began hitting theaters at 9 p.m. Thursday, gave it a "C+" CinemaScore.
The weekend's other wide opener, Summit's "Alex Cross," took in $4 million from 2,539 locations Friday. That's at the low end of expectations for the movie, which stars Tyler Perry as the psychologist-detective made famous in James Patterson's best-selling novels. Audiences gave it an "A" CinemaScore, so word of mouth could help.
Sony's animated family movie "Hotel Transylvania" kept rolling. It's on pace for a $15 million and third place in its fourth weekend after taking in $3.6 million fromm 3,384 locations Friday. Its domestic gross is now at $109 million.
Fox's "Taken 2," for three weeks the nation's No. 1 movie, took in $4.2 million Friday, putting it on pace for a $13 million weekend. The overall gross for the Liam Neeson thriller is $95 million, $229 million worldwide.
Summit's "Sinister" appeared to take a major hit from "Paranormal Activity 4." It's looking at $9 million for the three days, well off its $18 million debut last weekend, after a $2.9 million Friday. It's in the same range as Sony's Keven James comedy "Here Comes the Boom," which took in $2.5 million Friday and is on course for an $8.5 million finish in its second week.
Overall, the box office is running about 20 percent ahead of last year when "Paranormal Activity 3" led the way.
Earlier …
The shaky cams and cheap thrills of "Paranormal Activity 4" should provide another box-office bounty for Paramount this weekend, but the more intriguing question is how will Tyler Perry do without his dress?
The studio is projecting a $35 million to $40 million bow for "Paranormal Activity 4," and industry analysts say it could go even higher. The horror thriller will get a jump on the weekend with 9 p.m. Thursday screenings at an undisclosed number of its 3,300 locations.
The weekend's other wide opener is Summit Entertainment's "Alex Cross," starring Perry as the psychologist-detective made famous by James Patterson's best-selling novels. It's expected to finish in the mid-teen millions over the three days, depending on how many of his "Madea" fans come to see Perry in this crossover venture.
Last week's leader "Taken 2" is expected to battle for third place with Ben Affleck's "Argo" and Sony's "Hotel Transylvania."
Also read: Mini-Budgeted 'Sinister' Horrifies the Box Office – Here's How
"The 'Paranormal' movies have become something of a Halloween season event," Jeff Bock, senior analyst at Exhibitor Relations Co. told TheWrap, "especially with the young crowd."
This year, any opening is an event for Paramount, which hasn't rolled out a film since "Madagascar 3: Europe's Most Wanted" in June. The studio's distribution deal with Marvel Studios is over and a similar pact with DreamWorks Animation expires at the end of the year.
The first three installments in the found-footage horror franchise produced by Jason Blum and Oren Peli have taken in more than $576 million worldwide. "Paranormal Activity 3" opened about this time last year to $52 million and went on to make $205 million worldwide.
Also read: Paramount's Meager Slate Imperils Studio's Box Office Crown
"PA 4" isn't expected to match the domestic opening of the last film, but will likely outstrip any of the franchise's other films at the overseas box office. The studio isn't wasting time and will open the film this weekend in the U.K., Australia, Russia, Spain, Brazil and Mexico and other markets.
The R-rated thriller is directed by Henry Joost and Ariel Schulman, the team behind "PA 3." The screen play is by Christopher Landon. Akiva Goldsman executive produces.
For "Alex Cross," Perry not only gives up his Madea dress and makeup, but also the writing and directing chores. It's the third film to be based on the Patterson novels.
Also read: 'Alex Cross' Review: Stop, Or Madea Will Shoot
It's been more than a decade since Morgan Freeman played Cross in 2001's "Along Came A Spider." Earlier, he played the detective in 1997's "Kiss the Girls."
Perry will play a younger Cross, facing serial killer Michael "The Butcher" Sullivan (Matthew Fox), an ex-operative who taunts the police trying to catch him and then threatens Cross's own family. Rob Cohen ("The Mummy: Tomb of the Dragon Empire") directs from a screenplay by Marc Moss and Kerry Williamson. Edward Burns, Rachel Nichols and Jean Reno co-star.
The tracking on "Cross" is mixed and the critics are unimpressed. Just 30 percent of the notices on Movie Review Intelligence are positive. Its awareness numbers are solid, however.
"It's not Madea-level buzz," Bock said, "but this is a typical cat-and-mouse psychological thriller and should play across several demographics. It's very much a test of Perry's crossover appeal and if it does click, it certainly has franchise potential."
The studio has tried to cross over with its marketing, too. Summit targeted fans of Patterson and Perry with online campaigns as well as a three-week media blitz on network and cable TV. The studio partnered with Clear Channel and Radio One for radio promotions targeting African-Americans
Summit has limited exposure, having acquired the film from QED Entertainment, which produced it with a budget of $23 million. The PG-13-rated thriller is on 2,538 screens.
On the specialty front, Fox Searchlight will roll out "The Sessions" in four theaters. It acquired the film after it won audience and juror awards at Sundance this year. It has a 95 percent positive rating on Rotten Tomatoes.
Also read: 'The Sessions': John Hawkes, Helen Hunt Embrace Movie That Is 'Sex Positive'
Writer-director Ben Lewin's R-rated film is based on a true story and follows a 36-year-old writer (John Hawkes) who was afflicted with polio as a child and who has to spend as many as 20 hours a day in an iron lung. He decides he wants to lose his virginity, and enlists the aid of his parish priest (William H. Macy) and a sex surrogate (Helen Hunt) to do the deed.
Rocky Mountain Pictures, the company behind "2016: Obama's America," is debuting the documentary "Hating Breitbart" on four screens. Writer-driector Andrew Marcus' film is about the media's fascination with Andrew Breitbart, the conservative firebrand who died in March.