A24 has acquired North American rights to James Ponsoldt's "The Spectacular Now," one of the most buzzed-about titles at the 2013 Sundance Film Festival.
The film, which drew raves for Miles Teller's and Shailene Woodley's performances as a pair of high schoolers who fall into an unlikely relationship, drew a large number of prospective buyers to its Friday night premiere at the Library Center Theatre.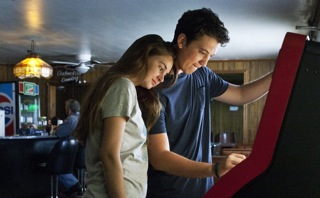 Written by "(500) Days of Summer" writers Scott Neustadter and Michael H. Weber and financed by Andrew Lauren, "The Spectacular Now" is Ponsoldt's first film since last year's "Smashed," which also drew raves for its performances but was not a box-office hit.
Also read: Shailene Woodley, Miles Teller Get Sundance Buzz for Teen Spirit in 'The Spectacular Now'
"We fell in love with this film the minute that we watched it and we know the rest of the country will embrace this timeless love story," said a quote attributed only to "A24" in a press release announcing the acquisition. "James has directed a wonderful film that depicts young love with complete authenticity and has two young stars giving incredible performances."
Added Lauren, "I am so thrilled that the film has found a home with a company that has such passion for it. It's been an amazing Sundance and we are so gratified by the incredibly warm response here."
A24 is a New York-based media company for the distribution, financing and production of feature films. The company is set to release Harmony Korine's "Spring Breakers" and recently acquired Sophia Coppola's "The Bling Ring."
A24 plans to release "The Spectacular Now" in the summer.