Indianapolis may host an iconic annual auto race in which the contestants drive in a circle for 500 miles, but it is home to zero pop-culture reality shows.
There's never been a "Real Housewives of Indianapolis", an "A-list Indianapolis", or even a "Real World, Indy." With this weekend's Super Bowl bringing the pop culture focus to the Midwest, the question for many marketers who considered hosting events is: "If Bravo's never been there, is it worth going?"
For media and entertainment brands with a major stake in the NFL, like DirecTV, ESPN, and Audi, and even some without – like print outlets Rolling Stone and Maxim– the answer remains yes.
Many of the smaller brands which typically populate the hospitality lounges and gifting suites during film festivals and Hollywood awards week are sitting on the sidelines. They're looking ahead to March's South by Southwest Festival in Austin, or even the New York City Super Bowl, which should be super-sized in 2014.
For those who are here in Indy, however …
"If you can pick one celebrity to be walking down your red carpet this weekend, it's (Tim) Tebow, Tebow, Tebow, and more Tebow," says Brian Gordon, CEO of lifestyle marketing firm Engine Shop and a veteran of thirteen Super Bowls.
Last year's Super Bowl host city Dallas completely failed to cope with a massive snow storm and the transportation problems it caused. The hangover from that has plainly affected event planners in Indianapolis.
It helps that downtown Indianapolis is smaller and more compact. But the trend for Indianapolis is fewer but bigger events hosted by those who already have a big stake in the league. For logistics, many chose locations within shouting distance of Lucas Oil Stadium, where the game will be played, and made them consumer-friendly. About half make tickets available to the public, but they don't come cheap.
Here's a round-up of the ones that will be trending topics in the pop culture coverage of the weekend:
Open to the Public:
DirecTV
Looking for free and open to the public? This is the best bet. As an NFL broadcast partner, DirecTV is bringing in more than a million pounds of sand to create an indoor football field for its annual Celebrity Beach Bowl on Saturday afternoon. The Fray will perform after the game.
By night, Mark Cuban, Peyton Manning, and Cuban's HD Net host a private bash featuring Katy Perry.
Last year, Usher's headlining performance on the stage tipped off his surprise appearance during the Black Eyed Peas halftime show the next night. This week, M.I.A. tipped her appearance with Madonna and Nicki Minaj at the halftime show on BBC1 radio, putting an end to speculation that the blue-haired Perry might fill a similar role.
The most awkward photo opportunity of the weekend is unlikely. Andrew Luck, the projected top NFL draft pick who could replace the lame-duck hometown hero Manning on the Colts, is not expected as of publishing.
Rolling Stone
The music magazine presence here would seem to contradict music industry analyst Bob Lefsetz's widely publicized statement last week that "Jann Wenner cares about politics more than music."
The long-in-the-works celebration of Bacardi's 150th Anniversary includes performances by LMFAO, Lupe Fiasco, Cobra Starship & Gym Class Heroes.
The hybrid mega-concert/ celebrity party, is a public facing event with tickets available to the public — the wealthy public, that is. General admission is $1070 though their official online retailer: www.rollingstonerockweekend.com.
In addition to a varied lineup that includes Jack McBrayer, NASCAR driver Jeff Gordon, Carson Daly, Nikki Reed and Sherri Shepherd, this event is in the choice location. The Crane Bay, a just-renovated event space, is only two blocks from the Stadium.
Rolling Stone's Sunday tailgate bash comes in $110 cheaper than Maxim's at $540 a ticket, with performances by Jane's Addiction and The Roots.
Maxim:
The lad's mag, and the internal jockeying for its party invites, has become synonymous with the big game weekend.
"We want to shine above everyone else," Maxim president Ben Madden tells TheWrap.
This year, they're polishing their reputation with a double-header. Sunday afternoon's open-to-the-public Maxim tailgater "Salute to Heroes" is also within walking distance of the stadium.
Instead of a celebrity, the hosts are Congressional Medal of Honor recipient Dakota Meyer and a civilian model contest winner.
"With other brands, whether it's Playboy or Sports Illustrated, the focus is on swimsuit models. Its not like that at a Maxim event," Madden says. "We focus on attainable celebs, and attainable girls. We always feature beautiful girls you might run in to at a Starbucks."
The $650 admission price to the all-you-can-eat-and-drink pregame is enough to own 13 shares of actual Starbucks stock, but a portion of that will go to military-affiliated charities.
"One of our top readerships is men in the military forces," Madden says. "Maxim is not on any banned list whatsoever."
The traditional hot ticket for young Hollywood — Saturday night's party — is less egalitarian.
The celeb-heavy bash sponsored by Patron, Coca-Cola Zero and Tabasco at the Indianapolis State Fairgrounds will draw lots of athletes looking to escape from earlier commitments in the night. This event is traditionally so popular that it has its own hangar-sized tent just for check-in.
Private Parties:
"ESPN Next"
The home of Monday Night Football looks to own Friday night with its own ESPN Next event. Tony Schubert, who just finished with Sunday night's SAG Awards after-party has converted a 40,000 square-foot warehouse for the eighth annual event.
ESPN President John Skipper is a well-known for aggressively pursuing digital initiatives, and that will be clear at the party.
ALSO READ: ESPN Chief John Skipper on Digital: Make Love, Not War
Asking the 2,000 guests to go "heads up" instead of "heads down texting," ESPN has built a dedicated social media production studio on site for maximum efficiency in social sharing.
Those following @ESPNmag on Friday night can expect a play-by-play of the event featuring Drake and ESPN The Magazine cover star and guest of honor Cam Newton. Expect lots and lots and lots of athletes. It's usually the inverse of the gender ratio at the Playboy and Maxim parties.
Audi
Just in time for the Super bowl, Audi has made a tongue-in-cheek attempt to kill the pop-culture vampire trend with a parody commercial in which its LED lights spontaneously combust a vampire party.Harnessing the buzz surrounding the ad, they will host a very intimate refuge for top talent in the penthouse of a downtown hotel Friday night. Last year's event at a similarly safe-for-celebs sanctuary brought out Demi Moore, Ashton Kutcher, Justin Timberlake and Hugh Jackman.
New York's Virtual Embassy
Oscar-winning producer Steve Tisch, an owner of the N.Y. Giants, not surprisingly boasts the weekend's event that most straddles Hollywood's awards season and the NFL.
The New York Post reported a send-off lunch in New York on Wednesday with Harvey and Bob Weinsteins, Barbara Walters, Bill O'Reilly, Anna Wintour and new NBC personality Howard Stern among others.
The Giants' official Indianapolis party with ownership, past players and box owners is at pop-up venue The Field House on Friday night. The Casa de Don Julio, Popchips, and a satellite of NYC hotspot 1OAK take over later in the weekend.
Don't wear Patriots regalia to this one. Those with Massachusetts drivers' licenses and Boston accents will be tackled on site.
NBC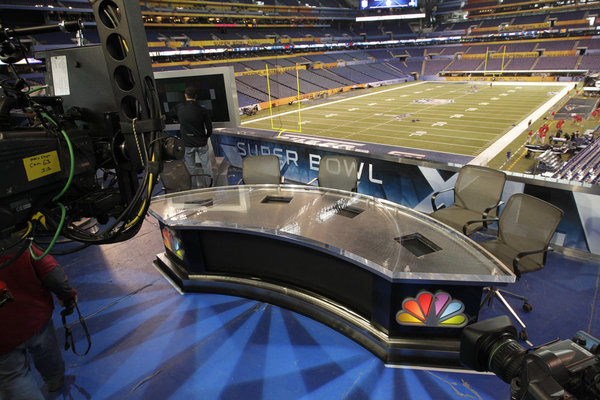 As the host network, it's the one guaranteed winner. Amidst a variety of events, network reality executives Paul Telegdy and Meredith Ahr will be on the ground, getting a first-hand look at the lead-in to the Season Two premiere of "The Voice" that follows the big game.
Playboy Party
The original Super Bowl bon vivant has booked Ne-Yo for its bash at the temporarily monikered "Budweiser Hotel".