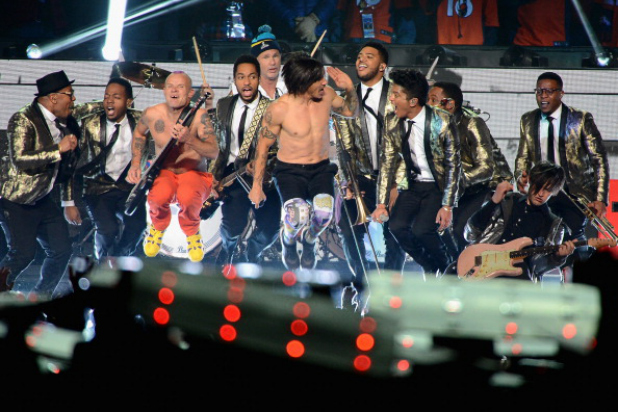 Bruno Mars' Super Bowl halftime performance was a bigger drumming than the game itself — with Mars on drums.
Mars took MetLife Stadium's 50-yard-line at the midway point of a Super Bowl XLVIII rout in favor of the Seattle Seahawks. After a children's choir ran through the refrain to "Millionaire," the camera cut to a skinny-tied and gold-blazered Mars, banging away on a drum kit fixated on a floating platform.
It was a little early, perhaps, for a drum solo, but Mars was impressive on the skins before switching to the mic to transition into his hit "Locked Out of Heaven." Next up was a horns-heavy "Treasure," which gave way to "Runaway Baby" — a lesser-known Mars song that included an intermittent James Brown tribute, wherein Mars showed the New Jersey crowd that his feet work just as well as his vocal chords.
See video: Super Bowl: Mark Wahlberg Runs, a Dinobot Rampages in 'Transformers: Age of Extinction' Trailer
As previously announced, the Red Hot Chili Peppers joined Mars on stage to perform their 1991 hit "Give it Away." Anthony Kiedis and Flea were shirtless, but no further nudity came from the band as well-known for their minimal dress as they are for breakout record "Blood Sugar Sex Magik."
Mars closed his set with ballad "Just the Way You Are," made even more special when active-duty military men and women dedicated it to loved ones via pre-recorded satellite video.
Watch the Pepsi Halftime Show: