The arrest of eccentric billionaire Robert Durst following the airing of an HBO documentary series about his connection to murders and missing persons may be shocking, but it's hardly the first time legal scrutiny has been ignited by the forces of popular media.
In these seven instances, publicity surrounding pop culture phenomena — from serious documentary features to reality series and even stand-up comedy — led to real-life action that changed the lives of the subjects.
Like Durst, the family at the center of TLC's "Sister Wives" put its potential guilt of a crime front and center in a nationally televised docuseries. Kody Brown was in a polygamous relationship with three women when the series began in 2010 and married another during the course of the first season.
Also Read: 'Sister Wives' Daughter Is Down With Polygamous Lifestyle (Exclusive Video)
Police in their hometown of Lehi, Utah, launched an investigation into the family on possible charges of bigamy the day after the series premiered. Footage from "Sister Wives," which depicted the marriage ceremony between Brown and newest wife Robyn Sullivan, was used as evidence.
Brown objected to the investigation, arguing that he was only legally married to his first wife, Meri. But in Utah, bigamy — a third-degree felony punishable by up to 20 years in prison for the man and five years for each wife — could also be defined by cohabitation. Brown shared a single massive house with wives Meri, Janelle and Christine and their 13 children, all documented in detail on TLC.
Fearing persecution and prosecution, the family fled to Las Vegas, deeming Nevada a more "polygamy-friendly" state. Utah's criminal case was ultimately dropped, but Kody Brown won a federal lawsuit challenging Utah's anti-bigamy statutes on the basis of cohabitation. The state's appeal is currently pending in the federal court system.
Also Read: 'Sister Wives' Controversial Season Finale Scores Series-High Ratings (Exclusive)
"The Central Park Five"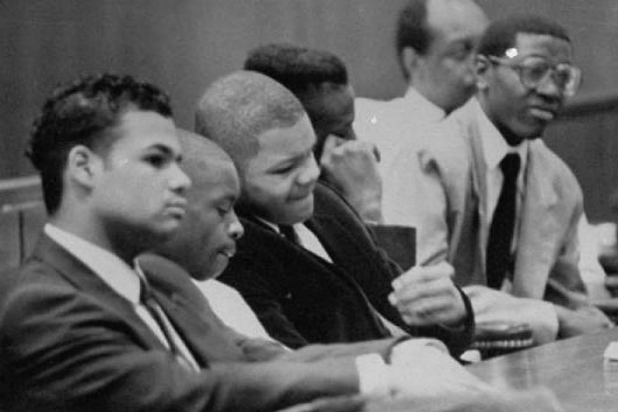 In 1989, four black and one Hispanic teenagers were accused of the violent rape of a young white jogger in Central Park. Despite a lack of physical evidence tying those boys to the case, they were all convicted of charges ranging from rape to assault and attempted murder.
Also Read: Ken Burns 'Thrilled' About Central Park Five Settlement
The Central Park Five, as they came to be known, sued the city of New York for malicious prosecution and racial discrimination in 2003 after their convictions were vacated when DNA evidence exonerated them.
The suit remained tied up in the courts for nearly a decade when Sarah Burns, daughter of legendary documentarian Ken Burns, made a film about the case. "The Central Park Five" premiered at Cannes in 2012, and the filmmakers became advocates for the five men, pushing New York to settle the lawsuit.
Ken Burns said in a 2013 interview that then mayoral candidate Bill de Blasio would settle the case were he to win that year's election, and on Sept. 4, 2014, the Central Park Five were awarded $41 million.
A 24-year-old cold case in Grand Rapids, Michigan, received new attention when a documentary about the case premiered last year.
Also Read: Robert Durst Not Linked to Oakland Disappearance, Police Say
Police reopened the file on Joel Battaglia, 23, who was beaten to death in 1990, just as filmmaker David Schock planned to debut his documentary, "Death of a Phoenix" at a theater near the crime scene.
"The goal is for someone to come forward and to provide the police with the one revelation they need to at last fully investigate the homicide," Schock said in a statement. "We've said it before and in this case again: 'Somebody knows something; somebody always knows something.'"
Natalie Wood
In 2011, the 30th anniversary of the drowning death of Oscar-nominated actress Natalie Wood, police reopened the investigation due in part to a book written by the captain of the boat she was on at the time of her death.
Also Read: Natalie Wood Death: Robert Wagner Avoiding Interview, Sheriff's Department Says
Dennis Davern suggests in "Goodbye Natalie, Goodbye Splendour" that an argument involving Wood and actors Christopher Walken and Robert Wagner (her husband) was more intense than all parties had claimed at the time. The book was published in 2009, and two years later Davern repeated those claims in a TV interview, prompting police to review the evidence once more.
They determined injuries Wood sustained could have come from falling off Wagner's boat, "Splendour," as has long been theorized, or they may have been inflicted before she wound up in the water on Nov. 29, 1981. That ambiguity led authorities to reclassify Wood's death from "accidental" to "undetermined."
"Serial"

The groundbreaking 2014 podcast "Serial" attempted to solve the mystery of who killed Hae Min Lee, an 18-year-old high school student who was found strangled to death in Baltimore, Maryland, in 1999.
Lee's ex-boyfriend and fellow student Adnan Syed was convicted of her murder and has been serving a life sentence, but the podcast reexamines evidence that suggests Syed might not have been responsible — or at the very least, that legal proceedings at the time were flawed.
Also Read: Convict From 'Serial' Podcast Granted Appeal
As part of her research, "Serial" host Sarah Koenig interviewed Deirdre Enright, head of the Innocence Project at the University of Virginia law school. Enright decided of her own accord to take up Syed's case, and in December 2014, the Innocence Project began the process of filing a motion to examine DNA evidence.
Syed also won the right to appeal his conviction in February based on his lawyer's failure to utilize a letter potentially confirming an alibi — a key piece of evidence Koenig brought up in her discussions with Syed during the course of recording "Serial."
"Paradise Lost" and the West Memphis Three

In 1993, three young boys were found brutally murdered in West Memphis, Arkansas. Three teenagers were convicted of the crime, which prosecutors sensationally asserted was part of a Satanic ritual.
Also Read: Reese Witherspoon's West Memphis Three Movie 'Devil's Knot' Acquired by Image
Joe Berlinger and Bruce Sinofsky made series of documentaries about the case called "Paradise Lost," which presented additional evidence in the cases and suggested the prosecution and the community at large was heavily biased against the teenagers.
Musicians got involved too. Henry Rollins released a fundraising album on behalf of the defendants, and Metallica lent their music to the "Paradise Lost" documentaries — the first time the band had ever licensed their songs for a film.
In 2011, after 18 years in jail and a series of appeals and retrial requests, the West Memphis Three were granted a plea deal that let them walk free.
Bill Cosby
Comedian Hannibal Buress triggered an avalanche in October when he called Bill Cosby a rapist during a set in Philadelphia.
Also Read: Hannibal Buress Reveals 'Death Threat From a Male Bodybuilder' After Calling Bill Cosby a Rapist (Video)
"Bill Cosby has the f–ing smuggest 'old black man' public persona that I hate," Buress said. "'Pull your pants up, black people. I was on TV in the '80s. I can talk down to you because I had a successful sitcom.' Yeah, but you raped women, Bill Cosby. So, brings you down a couple notches. 'I don't curse on stage.' But yeah, you're a rapist."
"I want to just at least make it weird for you to watch 'Cosby Show' reruns," Buress added.
Not only did the apt jokes make it weird for people to watch anything with Cosby in it, but they also prompted dozens of women to come forward with stories of sexual assaults they say Cosby perpetrated against them. In most cases, the statute of limitations to press charges has lapsed, but one woman who accused Cosby in Nevada is seeking to eliminate that state's time limit to report rape.
Many women are pursuing civil suits against the legendary actor. And NBC canceled its planned comedy pilot and said it would never go into business with Cosby again.