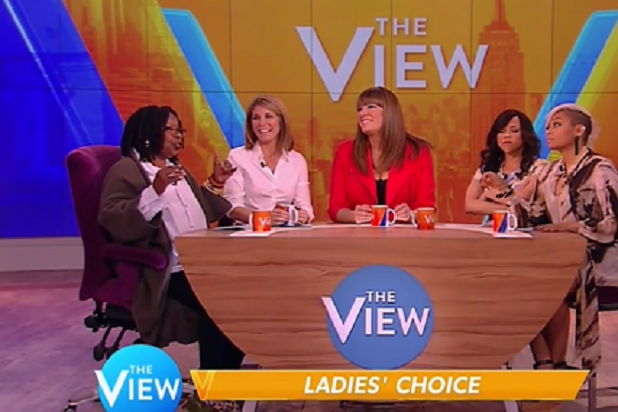 Never mind the fiery rhetoric that will no doubt fill debates during the presidential election season — the panel of "The View" got an early jump on the heated back-and-forth during a discussion about voting on Thursday.
The exchange began civilly enough, with a chat about the need to encourage more women to vote and the fact that female Republican candidate Carly Fiorina might be excluded from the first debate on Fox News and CNN because of her low poll numbers.
Comedian Michelle Collins, who guested on Thursday's episode, opined that more women might head to the polls if the voting booths were spruced up a bit.
See video: 'The View's' Whoopi Goldberg Mocks Marco Rubio, Lindsey Graham: A Shortie and a Dummy
"I think they need to make those voting booths more attractive to females … right now those voting booths are depressing," Collins noted.
Raven-Symoné said that she's not particularly interested in what most candidates have to say.
"They don't talk [about] a lot of stuff that I necessarily care about that much," Raven asserted. "One, I would like them to get over the fact that we need, excuse me, abortion issues, we need to get over that. We need to get over the LGBT situation."
She also pointed out that she doesn't relate to many of the candidates.
See video: 'The View' Guest Co-Host Michelle Collins on Billboard Music Awards: 'Somebody Finally Shut Kanye Up'
"If I had more things that looked like me up there, I would care a little bit more, because I feel like it doesn't matter," Raven proffered.
That drew a sharp response from Nicolle Wallace, who opined, "Identity politics are offensive … you should think about what you care about and vote for the person who champions your issues."
The segment ended with Whoopi Goldberg extending Fiorina an invitation to come on the show so that she might boost her numbers a bit.
Also read: 'The View's' Whoopi Goldberg Blasts Baltimore Rioters: 'Shame on You'
Elsewhere on the political front, the "View" crew discussed President Obama's recent decision to join Twitter and the racist tweets that have been directed his way. As Goldberg saw it, the anonymous bigots posting racial epithets aren't laying anything new on Obama — and they're cowards to boot.
"I don't know who thought we were past race. I mean, nobody asked me; I could have told everybody," Goldberg said. "But the president's like, 'Dude you're not saying anything I haven't heard before.' And you have no balls, sorry, you're anonymous, you have no balls."
Craig Robinson, whose NBC comedy "Mr. Robinson" premieres in August, and "The Good Wife" alum Archie Panjabi, who was promoting her new film "San Andreas," served as guests on Thursday's episode.
Raven-Symoné and Collins will return for Friday's episode. At the end of Thursday's airing, Goldberg noted that she hopes to bring the duo aboard full-time.
"We're trying to make it permanent, so write in to everybody," Goldberg implored the audience.