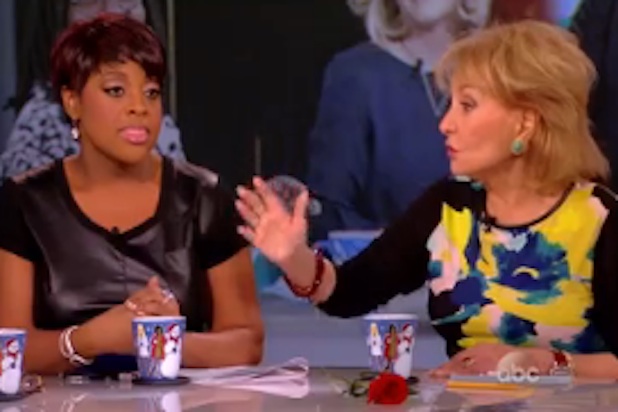 Lena Dunham found herself in hot water Tuesday with several co-hosts of "The View," who questioned whether the "Girls" star was a comic in the wake of a controversial joke she deleted on Twitter.
Dunham's controversial molestation tweet took center stage on "Hot Topics" as Barbara Walters panned Dunham's joke saying she thought making light of that kind of sensitive subject matter was never funny. Co-host Sherri Shepherd argued that outrageous comedy can sometimes work with the right people but not Dunham, who in her eyes, was not a comic.
Also read: Lena Dunham Reacts to Naked Critics – Makes, Deletes Molestation Joke on Twitter
"Number 1, Lena Dunham is not known as a comedian so therein lies a big problem," Shepherd observed. "Because you've got comedians who in a comedy club can make a certain joke. You've got a Sarah Silverman, Lisa Lampanelli, Chelsea Handler. They're known for doing a lot of risqué. So if they did something like that, I don't think it would surprise anybody."
"Let me ask you a question," Walters asked Shepherd. "They can be funny and they can be off-color and so forth. But is molestation ever funny?"
"But she's not known for that, Barbara!" Shepherd interjected. "Yes! I've heard people make those kind of jokes!"
See video: Chelsea Handler on Being Only Female Late Night Host: 'So Many Times I've Been Marginalized In The Press'
"I would never find it funny," Walters opined.
"If Chelsea Handler made a very risque comment even something like that I wouldn't be surprised if Chelsea said it or Lisa Lampanelli. I might even laugh. Because that's what they're known for doing. Lena Dunham is known being a feminist, empowering women, so that is a contradictory (sic)!"
Jenny McCarthy asked guest Jeff Ross if those kinds of jokes ever worked.
"I think jokes in context are always okay," Ross contended. "I mean, laughter comes from pain. If we don't make fun of the darkest things in the world, then comedians aren't doing their job. So hats off to Lena."
"But she's not a comic," Whoopi Goldberg argued.
"She's not a comic!" Shepherd chimed in.
"She *is* a comedian, because she has a comedy show," Ross affirmed. "She roasted Howard Stern at his birthday party. She's a comedy writer."
McCarthy added that victims of molestation would not find Dunham's joke humorous.
Watch the women of "The View" over Dunham's comic cred below:
)