Oscilloscope Laboratories has acquired the North American rights to "Meek's Cutoff," a Western drama set in the 1840s and directed by Kelly Reichardt ("Wendy and Lucy").
The austere, haunting film stars Michelle Williams (below), Bruce Greenwood, Will Patton, Zoe Kazan and Paul Dano, and is based on a true story from the early days of the Oregon Trail, when wilderness guide Stephen Meek led a small group of settlers through the Cascade Mountains. It won largely rave reviews screening in Toronto and, before that, at the Venice Film Festival.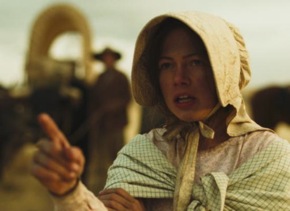 Writing for In Contention, Guy Lodge called the film "subtly muscular and altogether staggering," and compared it to the work of John Steinbeck and Terrence Malick.
Oscilloscope distributed Reichardt's last film, "Wendy and Lucy," which also starred Williams.
In a press release announcing the acquisition, Oscilloscope founder Adam Yauch said, "It' s hard to put words together that can convey how excited we are to work with Kelly and her team again. It is an honor to work with filmmakers of this caliber, especially given the fact that, through the process of releasing 'Wendy and Lucy,' we have become friends with them, so really I could not ask for more."
Negotiations with Oscilloscope were handled by Cinetic Media on behalf of the filmmakers.