Some Toronto movies will no doubt land acquisition deals in the days, weeks and months after the festival ends on Sunday – but deals that are made during the festival itself are likely to get a little more attention, which means the final days of TIFF are seeing a flurry of last-minute acquisitions.
"Everything Must Go" went to Lionsgate and Roadside, "Meek's Cutoff" was picked up by Oscilloscope, and on Friday the festival issued a press release crowing about how "more than 20 films have been sold to territories in North America, Europe, Asia, Africa, Australia and New Zealand."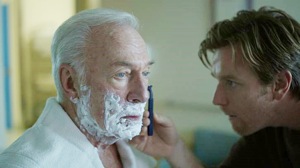 More acquisitions are expected this weekend; among the films reportedly entertaining offers are Mike Mills' "Beginners," with Ewan McGregor and Christopher Plummer (left), and Justin Lerner's "Girlfriend."
Among the roundups of deals so far: Toronto Life's "13 films that got distribution deals during TIFF."
Patrick Goldstein, meanwhile, has a few details about the bidding for Werner Herzog's 3D documentary "Cave of Forgotten Dreams," which he says had interest from four different distributors. According to Goldstein, producer Erik Nelson got an email pulling him out of the gala presentation of "The Promise" on Tuesday night, and he and Herzog entertained offers before deciding on IFC (and accepting "a mid-six-figure deal") at 4:30 a.m.
Incidentally, "Cave of Forgotten Dreams" may have had its first public screening ever on Monday night in Toronto, but it's already getting a quiet Oscar qualifying run. Beginning on Friday, the film screens twice a day at the Sunset 5 theater in West Hollywood, the minimum required to become eligible; it'll receive a proper release, with the kind of ads that are nonexistent for this run, in 2011.
(The qualifying run is also showing in 2D, not 3D.)
Back in Toronto, the New York Times' Manhola Dargis supplies an overview of the fest, which she says is now "second only to Cannes for industry noise." Before running through her impressions of a bevy of lesser-known films – including "Leap Year," "Essential Killing" and two of her favorites, "At Ellen's Age" and "The Sleeping Beauty" – she focuses on two of TIFF's most talked-about Oscar contenders: Darren Aronofsky's "Black Swan," and Danny Boyle's "127 Hours."
Both films, she concludes, are "outlandishly entertaining" explorations of life's sorrows – and both owe their momentum not to Venice or Telluride, but to Toronto.