Actor Idris Elba has let slip that both he and Tom Hiddlestom's characters from the "Thor" movies will be featured in Disney and Marvel's upcoming "Avengers: Age of Ultron."
And Hiddleston's "Thor" character will be featured prominently in the next installment of the Thor franchise "Ragnarok," as well as in both parts of series finale, "The Avengers: Infinity War", according to the Huffington Post.
The news of the castings comes just days after Marvel rolled out a slew of new movies, castings and release dates in unveiling Phase 3 of the Marvel cinematic universe.. And it doesn't sound like Marvel gave Elba the green light to announce the roles in "Ultron," which will open on May 5, 2015.
See photos: 'Avengers: Age of Ultron': Marvel Unleashes 8 Action-Heavy Character Portraits
"I'm in 'Avengers'," he said in an interview with London's Telegraph, referencing an appearance by his character from "Thor," the guardian god Heimdall.  "And I'm doing a scene with Chris Hemsworth (who plays Thor) and Tom Hiddleston (Loki), and they're like, (whispers) – 'Aren't you [meant to be] in Ibiza?"
Elba (below) was talking about a trip by the trio to a nightspot in Spain's Ibiza.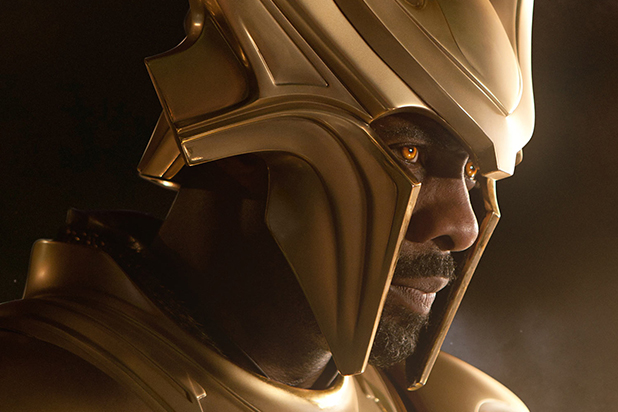 Elba also addressed the difference in appearing in a small, prestige film as he did in last year's "Mandela," and shooting a blockbuster-to-be like "Ultron."
"I'm actually falling down from a spaceship, so they had to put me in harness in this green-screen studio," he said. "And in between takes I was stuck there, fake hair stuck on to my head with glue, this f—— helmet, while they reset. And I'm thinking: '24 hours ago, I was Mandela'."