In an unprecedented tie, "Beginners" and "The Tree of Life" shared the prize for Best Feature at the Gotham Independent Film Awards, one of the two major awards given to independent film.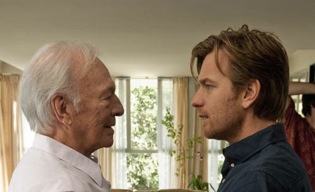 The decision, explained juror Natalie Portman in a taped message, was made because they could not choose between the two dramatically different films without feeling as if they were shortchanging one of them.
Other winners at the Gothams, which are presented by the Independent Feature Project (IFP), included Felicity Jones in "Like Crazy" (Breakthrough Actor); "Pariah" director Dee Rees (Breakthrough Director); the cast of "Beginners" (Ensemble Cast); and "Scenes of a Crime" (Best Film Not Playing at a Theater Near You).
The Best Documentary award went to "Better This World," one of many films recently left off the shortlist by the Academy's doc branch.
The bigger indie award, the Film Independent Spirit Awards, will announce its nominees Tuesday morning in Los Angeles.
"Girlfriend," by director Justin Lerner, won the Audience Award, which was chosen by online votes. The film, whose 2010 Toronto Film Festival debut was chronicled on TheWrap, was no doubt helped by a rabid online fanbase, urged on by tweets from co-stars Jackson Rathbone ("The Twilight Saga") and Shannon Woodward ("Raising Hope") and by Woodward's close friend Katy Perry.
The show also included career tributes to actress Charlize Theron (right), actor Gary Oldman, director David Cronenberg and executive Tom Rothman. It took place at Cipriani Wall Street, and was hosted by Edie Falco and Oliver Platt, the latter of whom summed up the event thusly: "Oh, of course it's the Gothams! Everyone's drunk and pissed off and unfinanced!"
"Winter's Bone" won the top Gotham Award last year, when a record three of the Best Feature nominees also received Oscar Best Picture nominations. Oscar winner "The Hurt Locker" won in 2009, a rare instance of the two shows agreeing on the same film.
For the most part, the Gothams occupy their own idiosyncratic corner of the awards landscape, an early ceremony with its own distinct tastes but without much real impact on the awards that will follow.
The tie may give "Beginners," which was released early in the year, a boost entering awards season, and help keep "The Tree of Life" in the forefront of the conversation. "Meek's Cutoff," "Take Shelter" and Oscar hopeful "The Descendants" were passed over for the top prize.
The winners:
Best Feature: "Beginners" and "The Tree of Life" (tie)
Best Documentary: "Better This World"
Best Ensemble Performance: "Beginners" (Christopher Plummer, Ewan McGregor, Melanie Laurent, Goran Visnjic, Kai Lennox, Mary Page Keller, Keegan Boos)
Breakthrough Director: Dee Rees, "Pariah"
Breakthrough Actor: Felicity Jones, "Like Crazy"
Best Film Not Playing at a Theater Near You: "Scenes of a Crime"
Audience Award: "Girlfriend"
Spotlight on Women Filmmakers "Live the Dream" Grant: Lucy Mulloy, "Una Noche"