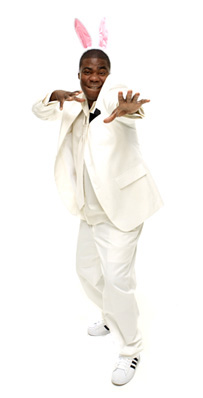 Tracy Morgan – "30 Rock" actor, comedian, in-demand tweeter – had his memoir, "I Am The New Black," published this week.
The book, combined with last week's season premiere of "30 Rock," means that Morgan is on a whirlwind press tour this week: half a dozen book signings in New York, the "Today" show, "Late Night" with Jimmy Fallon, Howard Stern (where he regaled listeners with stories of his checkered past as a prostitute-loving crack dealer), a Vanity Fair podcast – even CNN's "American Morning" – with "Live with Regis & Kelly," "The Daily Show" and NPR still to come.
It appears the full-court press push is taking its toll on the Emmy-nominated actor: "[H]aving a cheeseburger delux (sic) and diet coke at 9am," Morgan relayed via Twitter. "[B]reakfast of champions." (He followed that one up with this: "For $15, I'll induce your labor.")
Alas, as we've come to expect from Morgan's past public appearances, they've largely been weird, digressive, hysterical affairs — and perfectly unhinged, not unlike the characters Morgan's built a career on playing.
Here's a roundup so far:
Still, none of them can top this classic interview Morgan gave Letterman in January, during which he uttered the now-infamous line: "I'm just doing karate and trying to get females pregnant."