The lineup ranges from the blockbusterific spectacle of "The Avengers" to something called "The Fourth Dimension," three short films that include what is reportedly a strange performance by Val Kilmer as a motivational speaker named, um, "Val Kilmer."
Indeed, the Tribeca Film Festival, which opens on Wednesday night for a 12-day run in lower Manhattan, is a festival without a cohesive personality.
And that's just fine with Tribeca.
"You know what makes a festival good?" asked Geoffrey Gilmore, the chief creative officer of Tribeca Enterprises. "Showing good films."
Also read: Economic Downturn Won't Take Center Stage at Tribeca, Programmers Say
To that end, the festival — which, to be honest, screens more films in New York's Chelsea neighborhood than it does in Tribeca — mixes mainstream major-studio films like this year's opening- and closing-night attractions, "The Five-Year Engagement" and "The Avengers" (below), with lower-profile indie films looking for distribution.
Then it throws in sports movies and family films, outdoor "Tribeca Drive-In" presentations near the World Trade Center site, and panels geared to the industry.
Also read: Justin Bieber, 'Game of Thrones' Coming to Tribeca Film Festival
"In many ways, there is no such thing as a Tribeca film," said Gilmore, whose previous job was running Sundance — one of the high-profile festivals which does have a clear identity. "It's a blessing that we're not restricted to focusing on one kind of film … It feels free and liberating."
"If you start with an agenda, you're hurting yourself," he told TheWrap. "The best thing is to be as open as you possibly can be – because if you're looking for something in particular, you're not always going to recognize something else that's good."
Gilmore has been at Tribeca Enterprises since 2009, but he said he was more involved in programming this year than ever before, working closely with new artistic director Frédéric Boyer, who came from the Cannes Film Festival's Directors Fortnight program, and with director of programming Jenna Terranova.
They received nearly 6,000 submissions, a new Tribeca record, divided fairly evenly between features and shorts. They chose 89 films, a typical number for the last several years of a festival that began in 2002 partly as an attempt by co-founders Robert De Niro and Jane Rosenthal to revitalize Lower Manhattan in the wake of the 9/11 attacks.
While TFF's highest-profile screenings are the premieres of "The Five-Year Engagement" and "The Avengers," as well as outdoor screenings of Steven Spielberg's "Jaws" and Richard Donner's "The Goonies," the heart of Tribeca is its two competitive sections, the World Narrative Competition and the World Documentary Competition.
Each consists of 12 films that are either world or North American premieres – and, said Gilmore, the lineup is unusually strong and balanced. About a third of the films are U.S.-made, with other countries of origin including Argentina, Israel, Denmark, South Korea, Cuba, China and Qatar.
Competition films include "First Winter" (left), a drama by Benjamin Dickinson about "Brooklyn hipsters" trapped in a remote farmhouse during a blackout; "Una Noche," a Tribeca-backed, Cuban-set film by Lucy Mulloy; "While We Were Here," Kat Coiro's black-and-white drama starring Kate Bosworth; and "Yossi," Israeli director Eytan Fox's follow-up to his acclaimed "Yossi & Jagger."
Among the documentaries in competition are Oscar-nominee Scott Hamilton Kennedy's "Fame High," about a Los Angeles arts high school; "Ballroom Dancer," a Danish doc about a former dance champion looking for redemption; "The Flat," in which filmmaker Arnon Goldfinger uncovers family secrets while cleaning out the documents left behind when his grandmother, a refugee to Palestine from Nazi Germany, passes away; and "Wavumba," a mystical Dutch film about the fishermen of Kenya.
Tribeca's docs are typically a strength of the festival; last year, both "The Bully Project" and "Jiro Dreams of Sushi" were acquired at the fest. The former is now making headlines under its shortened title, "Bully," while the latter has become the first 2012 doc release to pass $1 million at the box office.
Also read: 'Bully' Wins the Ratings Battle, But It Isn't Winning the War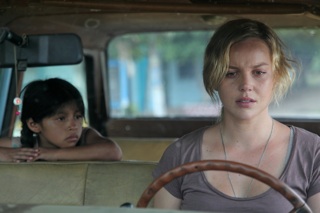 About half the films screening at Tribeca are available for U.S. distribution, and those are frontloaded into the first weekend to make it easier for buyers to shop. (Last year, about 50 percent of the available films sold.)
Films that have gotten strong advance buzz among buyers include "The Girl," which reportedly features a standout performance from Abbie Cornish (right) as a single mother who smuggles illegal immigrants across the border; the period piece "Cheerful Weather for the Wedding," with Felicity Jones and Elizabeth McGovern; "Stuck by Lightning," a comedy featuring Chris Colfer from "Glee"; and an array of genre films that includes "Replicas," "Revenge for Jolly" and the entertainingly-titled "Eddie – The Sleepwalking Cannibal."
(Genre fans, beware: there are no trendy found-footage horror films at Tribeca; they're more straight thrillers and action films.)
Among documentaries, lots of heat surrounds "The Revisionaries" (left), Scott Thurman's look at the Texas State Board of Education and its fight over textbook standards.
Other notable docs, which are evenly divided between serious issue-oriented films and pop-culture films, include "Let Fury Have the Hour," "The List," "Off Label," "Mansome" and the baseball film "Knuckleball," which will receive an outdoor screening on Saturday night.
Artistic director Boyer told TheWrap that he considers Tribeca the final stop on a film-festival calendar that begins at Cannes in May and runs through Venice, Telluride, Toronto, Sundance and more. As a result, he said, he feels free to cherry-pick films from previous festivals that have yet to be released.
This year, those will include Sarah Polley's "Take This Waltz," with Seth Rogen and Michelle Williams, and Julie Delpy's "2 Days in New York," with Chris Rock.
The 366 public and 122 industry screenings will also include a few films that might scare off buyers but sound intriguing nonetheless. There's Harmony Korine's aforementioned Val Kilmer-ized "The Fourth Dimension."
And "Francophrenia (Or: Don't Kill Me I Know Where the Baby Is)" is another installment in James Franco's apparent attempt to turn his career into a piece of performance art: The actor brought a film crew to document a day of his work on the soap opera "General Hospital," and co-director Ian Olds helped turn the footage into what the Tribeca catalog calls an "experimental psychological thriller set amid the spectacle of a celebrity's escalating paranoia."
If that's too weird, there's always "The Avengers." But for Geoff Gilmore, who said his four goals are to foster community, discover new talent, service the industry and find innovative ways to reach the audience, that's part of the plan, too.
"We use our tentpole films as entry points to the festival," he said. "It's hard to bring a new audience into film festivals, so maybe that big studio film will provide an access point to something they wouldn't have been interested in otherwise."
Additional information is available at the Tribeca website. TheWrap will have complete coverage in its Report From Tribeca column.