Michael Eisner is talking to creditors of the Tribune Co. about assuming the bankrupt conglomerate's top executive position, according to the Tribune-owned Los Angeles Times.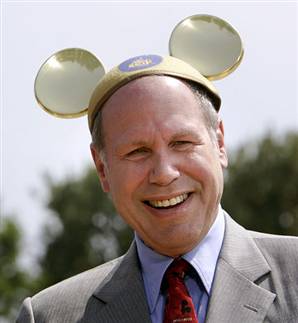 According to the report, which quotes only anonymous sources, the former Disney head is having preliminary discussions with Tribune's largest creditors to assume the chief executive role vacated last year by Chicago real-estate magnet Sam Zell.
A spokesperson representing Eisner declined TheWrap's request for comment. Tribune officials did the same.
Eisner departed as chairman of the Walt Disney Company in 2005 under the specter of widespread shareholder dissonance and has been involved with various digital media start-ups since.
Through his investment firm, Tornante Co., he launched online video production company Vuguru in 2007. He also purchased baseball card and collectables company Topps.
Under discussion, according to the report, is the possibility of also bringing in top Comcast executive Jeff Shell to join Eisner. Shell would replace Randy Michaels as CEO; Eisner would serve as chairman.
The Los Angeles-based Shell, 44, worked under the 68-year-old Eisner in Disney's strategic planning department earlier in his career.
Eisner is apparently not the only person who was approached about the job. Mel Karmazin, CEO of Sirius Radio, and Bob Pittman, former COO of Time Warner and MTV Networks CEO, were gauged for their interest, people close to each executive told TheWrap. Each took a pass.
"Who wouldn't be interested in Tribune," the person close to Pittman told TheWrap. "But once Bob heard the details, he declined."
All discussions are described by the L.A. Times as being preliminary.
In addition to the Times, Tribune owns the Chicago Tribune and six other newspapers, as well as Los Angeles' KTLA-TV and 22 other TV stations.
Tribune officials are still working with the company's largest creditors — which include bank JPMorgan Chase and hedge funds Angelo, Gordon & Co. and Oaktree Capital Management — to sort out the mess created when Zell bought the company in 2007, despite having insufficient financial backing.
This negotiation process is described as tenuous, unstable — it could wind up in court — and not likely to end anytime soon.
According to the Times report, Eisner was approached recently by Angelo, Gordon & Co. co-founder John Angelo, a childhood friend.
Dominic Patten contributed to this report.