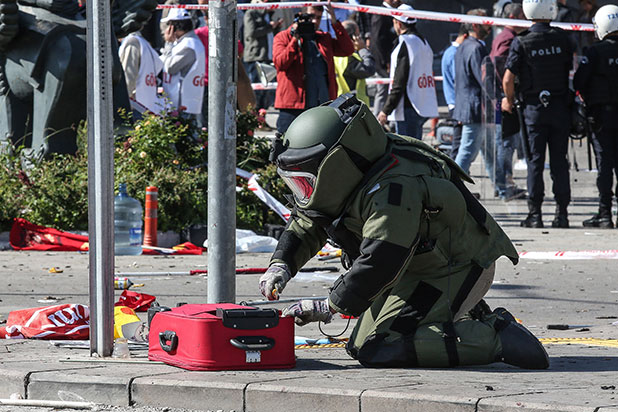 Turkey has reportedly blocked Facebook and Twitter following a terrorist attack in Ankara on Saturday morning, as many users are reporting issues accessing social media accounts in many areas of the capital city.
Twitter users are reporting that the social media platform won't load, while the Twitter account for Policy, the voice of Twitter's global public policy team, tweeted that "they are investigating and hope full service will be restored soon."
The Turkish government is apparently trying to block gruesome coverage of the attack, warning media organizations that they could face a "full blackout" if they did not comply.
Also Read: Boston Marathon Bomber Sentenced to Death Penalty
According to a statement by RTUK on its official website, "The Turkish Prime Minister has imposed a temporary broadcast ban regarding the terror attack conducted in Ankara this morning."
At least 86 people were killed and 186 were wounded after two explosions targeted a peace rally in Ankara.
According to the New York Times, the blasts, which media outlets are defining as the deadliest terror attack in the history of modern Turkey, occurred near Ankara's main train stations as protesters planned to march against the recent resumption of armed conflict between the Turkish state and Kurdish militants.
About 14,000 people were in the area when the two bombs exploded 50 meters apart from one another.
No group has claimed responsibility for the attacks yet.
Users in #Turkey are reporting issues accessing Twitter in many areas. We're investigating and hope full service will be restored soon.

— Policy (@policy) October 10, 2015
Can't access @twitter on @TTNETAS and @Turkcell networks in #Turkey, telecoms watchdog has no ban on the site but it still won't load.

— Emre Peker (@wsjemre) October 10, 2015