We were right about NBC ending up in third-place this season, and about ABC playing it too safe. We were also right that "2 Broke Girls" and "Person of Interest" would be at least modest hits for CBS. And that "The New Girl" would be a bigger hit for Fox than "Terra Nova."
But we went too far when we said "New Girl" could also be more successful than "X Factor," with which it went neck-and-neck in the ratings. We were completely wrong to say the now-canceled "Ringer" could become the CW's biggest hit. And we underestimated viewers' interest in fairy tales.
Also read: NBC Beats ABC to 3rd in Ratings; 'Sunday Night Football' Ousts 'Idol' as Top Show
We made lots of predictions about the 2011-12 TV season before it started. And now that it's wound down, it's time to hold ourselves accountable. (If you want to read our full prediction stories from September, here they are for Fox, the CW, NBC, CBS and ABC.)
Here's our network-by-network rundown of what we thought would happen, and what actually did.
FOX
In our first prediction story, we said "Terra Nova" and "X Factor" couldn't live up to their hype. And they didn't. "Terra Nova" was canceled, and "X Factor" fired half its judging panel and brought in Britney Spears and Demi Lovato for its second season, airing this fall.
"X Factor" failed to top "American Idol" in the ratings, as Simon Cowell said he hoped it would. Instead, NBC's "Sunday Night Football" toppled "Idol" after eight seasons of "Idol" dominance, and NBC's singing competition "The Voice" has been in a close race with "Idol" for number two. (Final numbers for the season are not yet available for the shows.)
We predicted "The New Girl" could be a bigger hit than "Terra Nova" or "X Factor," and we were right about the first part. "New Girl" and "X Factor" ended up very close in the ratings: The Wednesday "X Factor" averaged a 4.4 in the 18-49 demographic most important to advertisers, and the Thursday edition a 4.2. "The New Girl" averaged a 4.2 rating.
Also: We were wrong to say the animated "Allen Gregory" looked likely to succeed based on the star power of Jonah Hill. It's canceled. We were iffy on "I Hate My Teenage Daughter," and so was Fox. It's gone.
NBC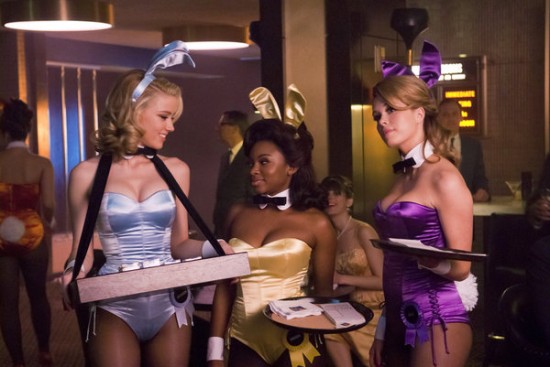 We got some specifics wrong – we were much too generous about the prospects of the fast-canceled "Free Agents" and "The Playboy Club" – but we generally got NBC right.
We said the network didn't appear to have any new breakout hits – and it didn't – but still had a good shot at breaking into third place in the key demo. (We even headlined the story "How NBC Can Break Into 3rd Without Breakout Hits.")
How did NBC do it? Pretty much just as we said it would: On the strength of "Sunday Night Football," and by using the Super Bowl to launch the second season of the hit "The Voice." ("Sunday Night Football" and "The Voice" were NBC's biggest ratings earners.) NBC had the biggest gains this season of any network, percentage-wise, in both the demo and total viewers.
We were also overly pessimistic about "Grimm," which turned out to be a success in an unenviable Friday time slot. We're sorry.
THE CW
We were very wrong to have written in September that the Sarah Michelle Gellar drama "Ringer" could "easily" become "the CW's biggest hit."
We were also wrong to say it could help the network gain traction beyond the 18-34 demographic it has targeted in its first five years.
In fact, CW ratings were down 22 percent this past season in the 18-49 demographic most
important to advertisers and 15 percent in total viewers. (Click on chart, left, to enlarge)
No other network was hit as hard as the fifth-place CW.
We had low expectations for "Hart of Dixie," the only new show from this season that the CW has renewed for the next one.
And we were wrong to predict the now-canceled "Secret Circle" looked likely to survive. We said we could go either way on the reality show "H8R," and the CW went the negative way, quickly pulling it.
CBS
As we predicted, "2 Broke Girls" and "Person of Interest" both did well for CBS. Not that it was a tough prediction: CBS said the shows were their highest-testing pilots of the season.
"2 Broke Girls" did especially well: It and "X Factor" are the highest-rated new shows of the past season.
We were right that the canceled "Unforgettable" wouldn't live up to its name, and overly optimistic about the now-canceled "How to Be a Gentleman" and "A Gifted Man."
We said CBS was taking a gamble by recasting "Two and a Half Men" to continue without Charlie Sheen, but noted that the only other option was cancellation. The show continued to thrive — even though "Big Bang Theory" replaced it as CBS top-rated comedy — and "Men" gave a great boost to "2 Broke Girls." In the fall, "Girls" will anchor Monday nights for CBS, while "Bang" and "Men" will team up on Thursdays.
ABC
We said ABC was playing it "safe – too safe" with a mix of shows featuring "hot women [and] dumb dudes." We would submit that we were right.
ABC lost third-place to NBC as it canceled two of those "hot women" shows, a humorless "Charlie's Angels" reboot and an adrift "Pan Am." We were right to recognize the fairly successful "Revenge" as a "potential breakout." The Tim Allen vehicle "Last Man Standing," which we also called a potential breakout, merely survived. Its second season will air on Fridays in the fall.
We said "Once Upon a Time" seemed "too complicated" to be a hit, underestimating the public's interest in fairy tales, as we did with "Grimm." Oops.
We overestimated "Suburgatory," meanwhile, by calling it ABC's "best chance for a hit." In fact, "Once Upon a Time" was easily ABC's biggest new show, followed by "Revenge." "Suburgatory" scored strong enough ratings to come back for a second season, but our expectations were too high.