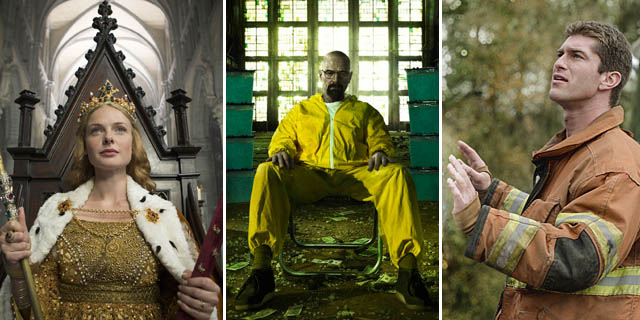 At some point, summer went from being the worst season for television to perhaps the best. With fewer shows competing for airtime, we're able to really pay attention to the shows that are on — and networks are rewarding our interest with some of their best series.
Showtime is sending off its hit serial killer drama "Dexter" by airing it months earlier than usual. CBS is airing one of its most anticipated programs of the year, the miniseries "Under the Dome." And AMC is airing the final episodes of maybe the best TV show ever made, "Breaking Bad."
See photos: New Shows of Fall 2013 TV
On the reality front, the family strife of Bravo's "The Real Housewives of New Jersey" returns. And for you genealogy/history/celebrity buffs, TLC has you covered with documentary series "Who Do You Think You Are?"
Here are 12 shows you should not miss this summer:
"The Killing"
Premieres: June 2 on AMC
Why It's Worth Watching: To see if they can somehow pull this off. The show infuriated fans by failing to solve Rosie Larsen's murder at the end of Season 1, and was canceled after season 2 offered a lackluster conclusion to the mystery. But it's been revived with a new premise that may better serve the show: Instead of trying to solve the murder of one young girl over two seasons, Dets. Linden (Mireille Enos) and Holder (Joel Kinnaman) now have to catch a serial killer who's murdered 17 women. Peter Sarsgaard joins the cast as an inmate who, in the tradition of Hannibal Lecter, just might be helpful to solving the murders. If he wants to be.
See photos: The New Stars of 2013's Summer TV Season
"The Real Housewives of New Jersey"
Premieres: June 2 on Bravo
Why It's Worth Watching: You can choose your friends, but not your family. That's what sets "RHONJ" apart from the other shows in the franchise. While other women could certainly walk away from tough situations, the New Jersey women have to deal with each other. And that makes for some delicate truces and huge blowups.
"Ray Donovan"
Premieres: June 30 on Showtime
Why It's Worth Watching: Because Liev Schreiber is one of our greatest actors, and his role as a "fixer" will give him lots of chances to get his hands dirty — and chew scenery.
"The Bridge"
Premieres: July 10 on FX
Why It's Worth Watching: What a premise. The drama finds two cops — one from the U.S., one from Mexico — trying to solve hellish murders along the border. The casting couldn't be much better: Diane Kruger plays the American and Demian Bichir the Mexican.
"Falling Skies"
Premieres : June 9 on TNT
Why It's Worth Watching: Another alien race? The upcoming season amps up the science-fiction and raises the stakes (and possible rewards) for its characters. This is the last season with showrunner Remi Aubuchon and that makes this season required watching.
"True Blood"
Premieres: June 16 on HBO
Why It's Worth Watching: Season 6 marks the first without co-creator Alan Ball as showrunner and that's encouraging for those who've sworn off the show for whatever reason. Ball or not, we can't resist returning to Bon Temps, but we have to admit the new trailers are super encouraging.
See photo: 'True Blood' Season 6 Key Art Teases Vamp Death
"Camp"
Premieres: July 10 on NBC
Why It's Worth Watching: It's so genius to give us a summer camp drama during the summer. That's "coming of age" gold. Here's more genius reasons you should tune in: It stars Rachel Griffiths ("Brothers & Sisters," "Six Feet Under") and comes from executive producers Liz Heldens and Peter Elkoff with credits including "Friday Night Lights," "Ugly Betty" and "Gossip Girl."
"Under the Dome"
Premieres: June 24 on CBS
Why You Should Watch: A clear dome suddenly forms around a bucolic small town that happens to be filled with great actors, from Dean Norris ("Breaking Bad") to Jeff Fahey ("Lost"). Okay, technically they're townspeople filled with great actors. But the biggest names are the storytellers: Steven Spielberg executive produces the miniseries, based on a massive book by Stephen King. The series is adapted for television by "Lost" alum Brian K. Vaughn, whose also behind the comic book masterpiece "Y: The Last Man." Kudos to CBS for going outside its comfort dome of procedurals and sitcoms to bring us something that looks, well, captivating.
"Who Do You Think You Are?"
Premieres: July 23 on TLC
Why It's Worth Watching: The former NBC series satisfies on so many levels (thank you, TLC, for saving it). Celebrities track their family lineage over time and distance, usually coming across some unexpected revelations. It's just really good TV and you can tell that hard work is poured into every episode.
"Dexter"
Premieres: June 30 on Showtime
Why It's Worth Watching: To see if the show can get back to its former greatness in its eighth and final season. The show's fourth season was everything "Dexter" is at its best: suspenseful, emotionally involving, and just a little grotesque. Season 5 wasn't bad, but six and seven relied much too much on shock value as Dexter and his sister, Deb, became less believable characters. Now the show has a fixed target, and a chance to recapture its earlier brilliance. Season 8 finds Deb in a tailspin after murdering her boss to save Dexter.
And the first trailer looks promising.
"White Queen"
Premieres: Aug. 10 on Starz
Why It's Worth Watching: Why not continually feed our addiction to the Brits and their messy fights for the throne? This period drama is based on Philippa Gregory's ("The Other Boleyn Girl") novels and follows three women who conspire to keep their claims to the throne.
"Breaking Bad"
Premieres: Aug. 11 on AMC
Why It's Worth Watching: Because it's one of the greatest television shows ever, if not the best. Last season set up what should be a devastating finale to the story of chemistry-teacher-turned-meth mastermind Walter White. We go to the last eight episodes with some huge questions: Why did Walt need such a nasty gun in the flash forward at the start of last summer's premiere? Why is he apparently living under a new identity in New Hampshire? And how will Hank go about bringing down the elusive Heisenberg, now that he knows that he's actually his brother-in-law? As badly as we want to know, we don't want Aug. 11 to get here too soon — because we hate for "Breaking Bad" to end.
Find out which new series we think you should watch in the video below: