"American Idol" contestant Symone Black might have fallen, but she got back up.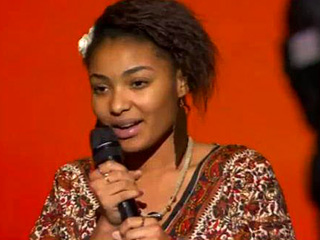 The nation's heart skipped a beat toward the end of "Idol" on Wednesday night, as they watched 16-year-old "Idol" auditioner Black tumble from the stage after seeming to faint after her performance of the Otis Redding classic "(Sittin' On) the Dock of the Bay."
Fox didn't help ease anyone's anxiety, either, by dramatically ending the episode with a scene of Nigel Lythgoe tending to a seemingly half-conscious Black while calling for a medic.
Also read: "Idol": Jim Carrey's Daughter and Another Contestant Fall — One Literally (Video)
Well, feel free to remove your fingernails from between your clenched teeth, because there's a happy ending to all this.
An individual familiar with the situation tells TheWrap that Black recovered from the spill just fine — and even managed to complete her audition.
Hmm… could the whole gasp-inducing incident play out to a heart-warming conclusion on tonight's "Idol"? If the amped-up emotionalism of the season thus far is any indication, you can bet your hanky.
Missed Black's spill last night? Catch it in the video below. If your anxiety over Black's well-being still isn't quelled, play the video backwards — that way it will look like she did an amazing reverse-backflip from the studio floor to the stage.