Bryan Cranston, Aaron Paul and their "Breaking Bad" cohorts could be heading to Belize — for real.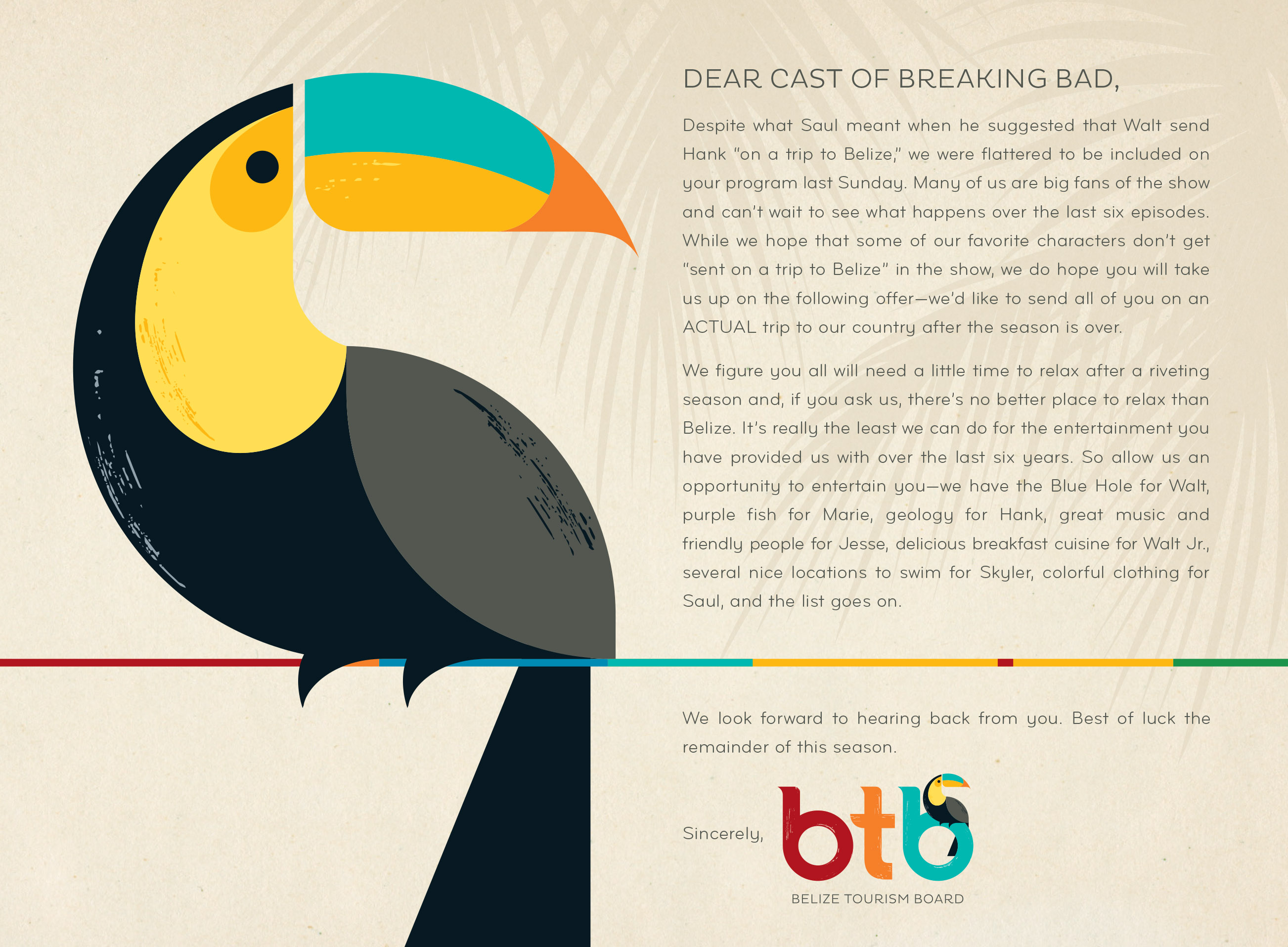 Responding to Sunday's episode of the hit drama — during which ethically challenged lawyer Saul Goodman ominously asked meth baron Walter White if he wanted to send his DEA agent brother-in-law Hank on "a trip to Belize" (in other words, if he wanted to have him bumped off) — the Belize Tourism Board has extended an invitation to the cast to unwind after an intense final season.
Also read: 'Breaking Bad': Will Hank Take 'a Trip to Belize'? Let's Consult the Color Chart
As it turns out, Belize was tickled to be mentioned on the AMC series.
"Despite what Saul meant when he suggested that Walt send Hank 'on a trip to Belize,' we were flattered to be included on your program last Sunday," the invitation reads. "While we hope that some of our favorite characters don't get 'sent on a trip to Belize' in the show, we do hope that you will take us up on the following offer — we'd like to send all of you on an ACTUAL trip to our country after the season is over."
Also read: 'Breaking Bad' GPS Coordinate Lead to Studio Where Show Was Shot
The invitation continues, "We figure you all will need a little time to relax after a riveting season and, if you ask us, there's not better place to relax than Belize."
The offer includes flights, hotels, meals and activities for four days and three nights, a spokeswoman for the tourism board told TheWrap, adding that they are willing to be flexible and and work with the cast's agents to accommodate their schedules.
See video: 'Breaking Bad' Star Bryan Cranston's Hilarious Ad for Hemorrhoid Cream
Quite the generous offer — though, given the deadly implications of Goodman's suggestion, they might want to tread lightly.