Promotions for this weekend's "Conan O'Brien Can't Stop" documentary have had the late-night veteran plastered on billboards and on TV spots across the country.
It's more than we've seen of the 6-foot-4 carrot top in the seven-plus months since the debut of "Conan" on TBS. Hard to believe that just a year ago, he was at the center of one of the biggest media stories in a decade.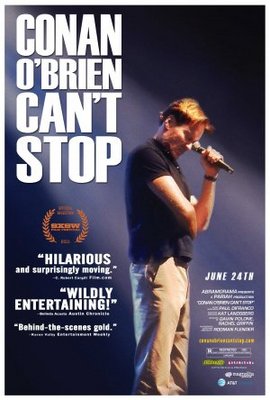 Indeed, where the web abounds daily with clips from "Late Night With Jimmy Fallon," "The Daily Show" and "Live! With Jimmy Kimmel," there's been a distinct dearth of nuggets emerging from "Conan" to be digested by cubicle jockeys the next day.
Not that his career is in the dumper, by any means.
His TBS series has averaged more than 1.2 million total viewers. And despite a lack of videos going viral on the web at large, his website, TeamCoco.com, averages in excess of 1 million video views a week, and his Twitter following numbers about 3.3 million.
He also performs particularly well with young audiences — the median age of his viewers is 32, and according to TBS, "Conan" outperforms "Late Night With Jimmy Fallon," "Jimmy Kimmel Live" and "The Late Late Show With Craig Ferguson" in the sought-after adults 18-49 demographic. (Of O'Brien's 1.2 million average total viewers, 864,000 of them fall in that demo.)
But still, that's network versus cable, where his "Tonight Show" audience had been hovering in the 2.5 million total viewers.
The issue seems to be one of relevance. Conan's now on a network whose staple is reruns of "Family Guy," "My Name Is Earl and "King of Queens." There are no cutting-edge political interviews, or anything remotely zeigeisty coming out of a show that was once the hippest in late night.
His biggest news lately was winning a nonspeaking cameo on "How I Met Your Mother." His most recent magazine cover appearance was for Fast Company.
Also read: Conan Wins a Chance to Appear as an Extra on 'How I Met Your Mother'
For its part, TBS insists that's part of a plan. "Conan's digital presence is amazing — the digital traffic to Conan is huge, and all of that is due to his appeal to youthful audiences," Michael Wright, executive vice president and head of programming for TBS, TNT and Turner Classic Movies. While Wright says that "the Conan guys put out fewer clips than Fallon or Kimmel," he adds that it's a deliberate choice not to flood the internet with clips.
Still, it's clear Conan has lost the water-cooler effect.
O'Brien was unavoidable in early 2010 when NBC, in a move that sparked outrage nationwide, decided to pull him from "The Tonight Show" after just seven months in order to reinstate Jay Leno, who'd been struggling in his new timeslot at 10 p.m.
Seemingly overnight, the country rallied behind the slighted comedian. "Team Coco" joined the national lexicon, with millions aligning themselves behind O'Brien. Even Jimmy Kimmel felt compelled to take a few well-pointed digs at Leno, going so far as to imitate Leno for an entire episode of his show.
"It's great to be here at ABC," Kimmel-as-Leno cracked. "You know what ABC stands for? Always Bump Conan."
When an exiled O'Brien launched his Legally Prohibited From Being Funny on Television Tour, even those who weren't able to attend the string of sold-out shows gobbled up tidbits of the appearances via video snippets.
And when he signed with TBS, his arrival was heralded with an orange blimp that hovered tauntingly over NBC studios as Leno taped the show that O'Brien had been bounced from.
One factor to consider when reflecting on O'Brien's lowered media presence is that the comedian isn't necessarily for everyone, says Brad Adgate, senior vice president-director of Research Horizon Media.
"He plays to a niche audience that works on cable," Adgate told TheWrap. "In terms of his popularity, he's popular in a certain group of viewers. I wouldn't necessarily call him a mainstream comedian … A lot of people are not going to get his humor. It kind of works with TBS even though he's on earlier, because the audience expectations are lower."
Even so, Adgate said, "Nothing he does necessarily stands out. He hasn't have any guests where people say, 'Wow did you see Conan talk to so-and-so'?" Adgate said." And again, [Jon] Stewart and [Stephen] Colbert have been really smart; they had the march on Washington and other stuff. And the Stewart and Chris Wallace [argument on 'Fox News Sunday'] ended up all over the place."
Whether O'Brien has — or needs — a robust presence in the viral-video world at large, TBS is clearly banking on his presence being a guiding light for the network.
When TBS first signed O'Brien, Wright told TheWrap, they weren't just seeking someone to fill a timeslot — they were looking for a big, red figurehead for their brand.
"On a network that's hung out a slogan 'Very Funny,' [O'Brien's presence is] an identifier," Wright says. "Conan's brand is very specific; it's very loud, and it's very well known."
And for TBS, Wright notes, "It's a lighthouse; you have 300 different network islands, and you have to shine a light out."