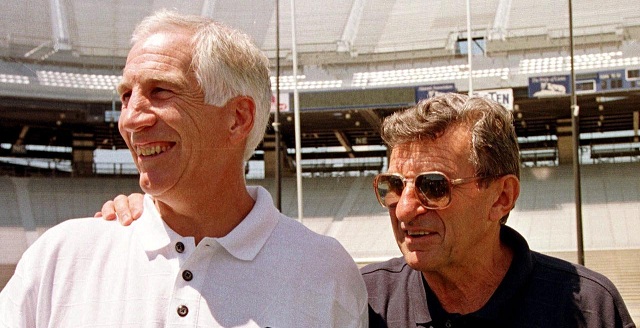 NBC's "Today" show on Monday will air excerpts from an interview with former Penn State assistant football coach and convicted child molester Jerry Sandusky, who is serving 30 to 60 years in prison.
NBC billed the interview as "Jerry Sandusky in his own words" and said the interview marked the first time Sandusky has spoken out since he was sentenced to prison last October. The former defensive coordinator for Penn State was convicted of 45 sex abuse charges for molesting 10 boys over 15 years.
Also read: Joe Paterno's Sex Abuse Mess: What Took the Media So Long?
The interview will be a compilation of collection of face-to-face discussions and phone conversations between Sandusky and filmmaker John Ziegler. There is no on-camera interview because recording devices are not permitted in Pennsylvania state prison.
NBC said the former longtime defensive coordinator will describe what he says happened on the campus, and what he thinks of whistleblower Mike McQueary and late head coach Joe Paterno.
Paterno is the famed Penn State coach who lost his job for failing to report Sandusky in the wake of the sex abuse scandal, then died two and a half months later at age 85. McQueary, a former assistant football coach and a former player, testified he saw Sandusky raping a young boy in the shower room on campus in 2002 and that he told Paterno about it.
Ziegler is working on a project called "Framing Paterno," devoted to the way that the media distorted and misrepresented Paterno's role in the Sandusky scandal. Ziegler also was behind the 2009 documentary "Media Malpractice," which attacked the media for supposedly unfair coverage of Sarah Palin.
Meanwhile, one of former Penn State football coach Joe Paterno's sons raised concerns about the interviews, and made that his family was not involved with Ziegler's project.
"If John had a credible way to exonerate Dad, why would we oppose it? Think about that," Paterno said in one of several tweets Saturday.
"A false narrative in support of JVP is no better than Freeh's false narrative condemning him – Truth is the only narrative we endorse," Paterno continued.
His reference there was to the Penn State-sponsored Freeh Report that implicated Joe Paterno in an attempt to conceal Sandusky's acts. The Paterno family issued its own critique of former FBI Director Louis Freeh's findings last month.
Sandusky did not speak in his own defense at trial, but in a November 2011 interview with Bob Costas shown on NBC, Sandusky denied he was a pedophile and said he enjoyed young people and loved to be around them.