Thirteen years after ABC's coming of age comedy, "Boy Meets World," signed off in 2000, it's getting a spinoff.
Disney Channel announced on Monday that it has officially ordered the "Girl Meets World" pilot to series. The youth cable network has yet to determine the amount of episodes for the order, though production on the comedy begins this summer for a 2014 debut.
"'Boy Meets World' and its story of adolescent self discovery resonated with an entire generation of tweens," Disney Channel Worldwide's original programming executive vice president, Adam Bonnett, said in a statement.
"In the same way audiences fell in love with Cory Matthews and Topanga Lawrence, we look forward to introducing our viewers to their daughter Riley Matthews in 'Girl Meets World' and building a memorable connection with a whole new generation of fans."
Also read: 'Girl Meets World' Casts Cory and Topanga's Daughter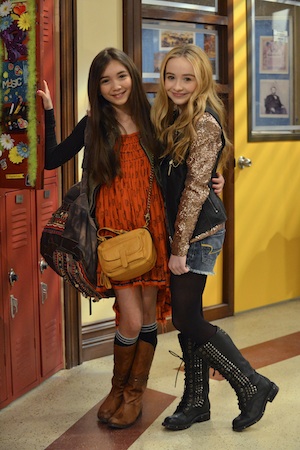 Eleven-year-old "Spy Kids: All the Time in the World 4D" star Rowan Blanchard will play the titular "girl" with Ben Savage and Danielle Fishel reprising their roles as childhood sweethearts Cory and Topanga, relatively.
On the spinoff set in New York City, Cory and Topanga Matthews' daughter, Riley (Blanchard), takes on seventh grade with best friend, Maya ("Sofia the First" star Sabrina Carpenter). Cory is a history teacher at the school while Topanga owns a diner, a popular after school hangout.
"I am grateful to everyone at Disney Channel for the opportunity to reach my favorite audience, which has always been kids," Michael Jacobs, who created "Boy Meets World" and its spinoff, said.
"'Girl Meets World' is a new show for a new generation that will be rooted in the same kind of honest, comedic storytelling about coming of age and the importance of family and friendship that made 'Boy Meets World' so popular."
Also read: Disney Channel Cancels 'Good Luck Charlie'
"Boy Meets World" writer/producer April Kelly co-created the spinoff with Jacobs, who will executive produce the It's a Laugh Productions Inc. multi-camera series.
On the pilot, Teo Halm plays Riley's older brother Elliott; Peyton Meyer plays a romantic interest for Riley; Corey Fogelmanis is a smart fellow student; and William Daniels reprises his role of Mr. Feeney, school principal and later a college professor on the original series. Disney Channel didn't confirm if the actors would move on with the series.
Jacobs has said there's a good chance that Rider Strong will reprise his role as Cory's best friend, Shawn Hunter, the only character to appear on every episode of "Boy Meets World" aside from Cory and Topanga.