First in a series on fall's ratings losers and gainers.
CBS comedies, led by "Two and a Half Men," have scored the biggest ratings gains this season, while CW shows and ones that have moved to Friday are taking the biggest slides.
No show has fallen like NBC's soon-to-depart "Chuck," which is down to less than half its previous average rating. But ratings trends are ominous for many long-running dramas and reality shows.
Also read: Fall Ratings Losers and Gainers: The Complete List
The Friday losses are to be expected: The night, where "Chuck" is serving out its last season, has long been a TV no-man's land. And the CW losses aren't as severe as they look, because the network has such a targeted audience — it focuses on young women — that even minor
drops can look huge in terms of percentages.
To track this fall's biggest ratings gainers and losers, TheWrap looked at Nielsen ratings in the 18-49 demographic, the one most important to advertisers, for every returning network show. We focused on gains and losses by percentage (see charts).
We looked at the start of the current fall season through the week of Nov. 13, compared to the equivalent time period last year.
CBS vs. CW
CBS, whose comedies dominate the list of shows on the upswing (left), co-owns the CW, where every returning show this season has been down.
Kelly Kahl, senior executive vice president of CBS primetime, is in charge of scheduling for both networks. While CBS's bright spots are more obvious, he points to promising starts for the new CW shows "Hart of Dixie," "Ringer," and "The Secret Circle."
And no, he doesn't worry that CBS could be pulling viewers from its younger cousin, which it owns with Warner Bros.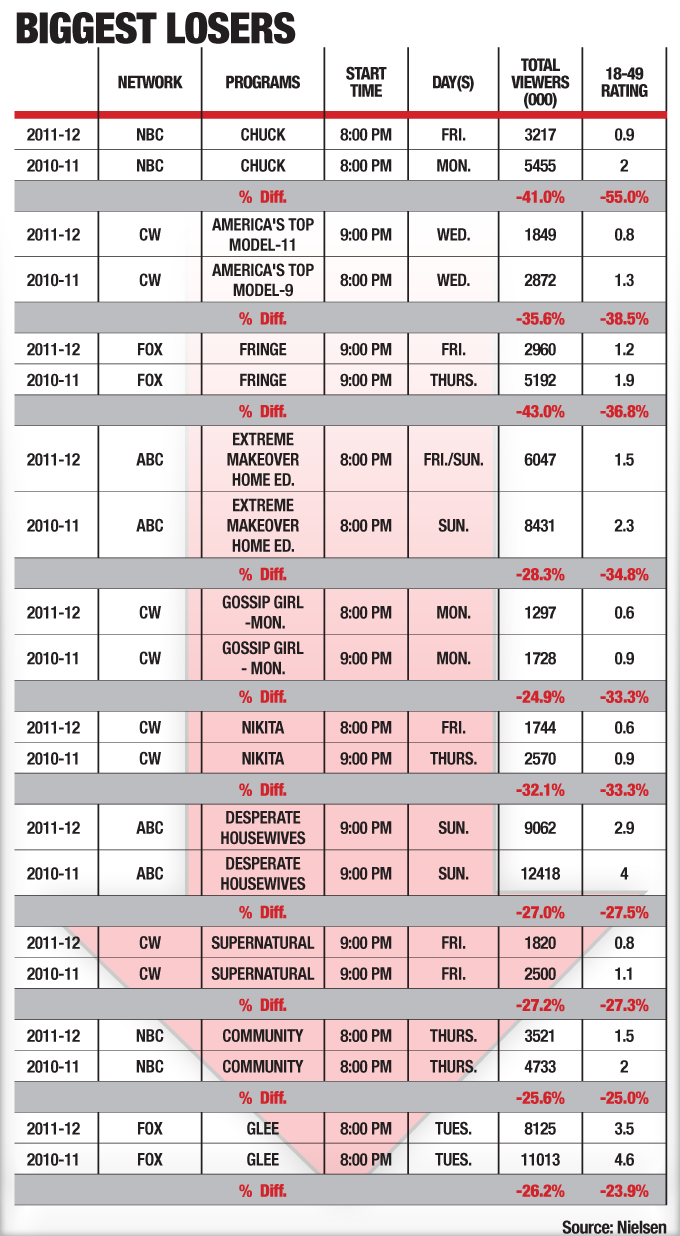 "I dont think we're cannibalizing the CW. It's not a zero sum game with ratings anymore," he said. Especially considering that so many CW users watch on DVR or online, he added, "for somebody to do better doesn't mean somebody else is doing worse."
Sliding CW dramas include "Gossip Girl" and "Nikita," both of which are down 33 percent. "Supernatural," meanwhile, is down 27.3 percent.
Aging Dramas and Reality Shows
Besides the CW and Friday shows, many dramas and reality shows have suffered significant slides, even as comedies thrive. Age seems to be taking a toll on dramas and reality shows, though not sitcoms, some of which are booming even after many seasons.
"Long-running dramas and some of these long-running reality shows are taking a hit. 'Dancing with the Stars,' 'Extreme Makeover: Home Edition,' 'Biggest Loser' and 'Top Model' are taking a beating," said Horizon Media senior vice president of research Brad Adgate. "I think these long-running entertainment genres have lost some steam. This reinforces that comedy is back on the upswing."
Dramas that are notably down include CBS's "The Mentalist" (down 19.4 percent in the demo), "CSI: Miami" (down 18.5 percent), "The Good Wife" (down 16 percent), and "CSI" (down 15.6 percent); ABC'S "Private Practice" (down 16.7 percent) and "Grey's Anatomy" (down 15.9 percent); NBC's "Law & Order: SVU" (down 16 percent), and Fox's "House" (down 14.3 percent). The non-Friday, non-CW drama that is down the most, ABC's "Desperate Housewives" (down 27.5 percent) is in its last season.
Sliding reality shows include ABC's "Dancing With the Stars" (down 23.3 percent for competition shows and 17.6 percent for results shows), NBC's "The Biggest Loser" (down 15.4 percent) and CBS's "The Amazing Race" (down 15.2 percent). The hardest-hit reality show, CW's "America's Next Top Model," is down 38.5 percent, the biggest drop of the fall after "Chuck," which is down 55 percent.
The CW dramas are the hardest hit: both "Gossip Girl" and "Nikita" are down 33.3 percent
Comedies Thrive
Of the 10 shows posting double-digit ratings gains, five are CBS comedies. They include "Men," (up 39.1 percent), the top-rated show of the season, and two shows with which its shares Monday nights. One is "How I Met Your Mother," up 25.7 percent and the second-biggest gainer, and "Mike & Molly," which is up 13.5 percent. The fourth Monday CBS comedy is "2 Broke Girls," the most successful new show of the season in the demo ratings.
The decision speaks to the apparent wisdom of bringing in Ashton Kutcher to replace Charlie Sheen on "Men," as opposed to cancelling TV's top comedy. Curiousity may have drawn viewers to the post-Sheen "Men," but more viewers are sticking around than tuned in this time last season.
Also among top gainers are the ABC Wednesday night comedies "Modern Family" (up 16.7 percent) and "The Middle" (up 15.4 percent) and CBS's Thursday sitcoms "Rules of Engagement" (up 12.9 percent) and "The Big Bang Theory" (up 11.4 percent).
'A More Realistic Number' for 'Glee'
Excluding Friday and CW shows, the ones suffering the biggest losses are "Desperate Housewives," "Community" (down 25 percent) and Fox's "Glee" (down 23.9 percent).
"Community" has already been sidelined for midseason, though NBC says it will be back. It suffers the same ratings skewing as CW shows: Its ratings are so low to begin with that small losses in viewers amount to a major percentage drop.
"Glee" is the biggest loser among non-CW, non-Friday shows that are not in their last season or sidelined, and the 10th biggest ratings loser overall. But it still maintains ratings most shows would find enviable, averaging a strong 3.5 in the demo.
That average is far better than that of any other of the 10 biggest ratings losers — and even better than that of four of the 10 biggest gainers. (It is tied with that of another gainer, "Rules of Engagement.")
Preston Beckman, Fox's executive vice president of strategic program planning and research, said 'Glee" remains "one of the hottest shows on television" among adults and particularly young women. He noted that it debuted to especially strong ratings, among critical acclaim and media heat.
"There's different kinds of shows, and the more a show is unique and there's nothing like it in television, it generally burns really bright, quickly," he said. "You can look at 'Lost.' 'Heroes' is anther example of that type of show," he said. "They're red hot, the critics embrace them, people make an appointment to watch these types of shows, and then they start to settle into a more realistic number."
Next in this series: CBS 'Validated' By Bringing Back 'Two and a Half Men,' Its Ratings Linchpin