"Gangnam Style" sensation PSY continues to be the gift that keeps on giving, so it's only fitting that he should fit into this year's Christmas programming somewhere.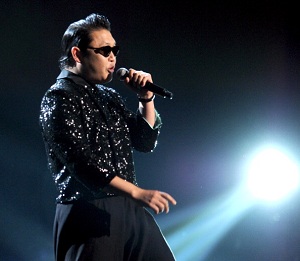 The Korean entertainer has signed on for TNT's "Christmas in Washington" special, headlining the annual Yuletide extravaganza with a special performance, the network said Thursday. (Then again, isn't every PSY performance special?)
Also read: Christmas Lighting Display Goes "Gangnam Style" and Viral (Video)
PSY will be joined by Diana Ross, "Smash" star Megan Hilty and "X Factor" judge Demi Lovato for the festivities, which will be hosted by Conan O'Brien once again this year.
"American Idol" winner Scotty McCreery and "The Voice" standout Chris Mann will also perform.
Also read: "Gangnam Style" Beats Justin Bieber's "Baby" to Become Most-Viewed YouTube Video
"Christmas in Washington," which will tape at the National Building Museum in Washington, D.C., on Sunday, Dec. 9. premieres Dec. 21 at 8 p.m. on TNT.