President Barack Obama appeared on "Late Show With David Letterman" in September. Now it's Joe Biden's turn.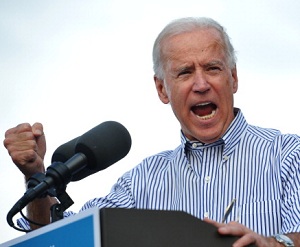 Vice President Biden will appear on Thursday's episode of "Letterman," a spokeswoman for the show told "TheWrap."
Also read: Obama on Leno: 'Rape Is Rape'
Biden will read the Top 10 list on the show. The topic of the list will be announced later Thursday.
Biden has appeared on "Late Show" twice before, in 2007.
Obama appeared on "Late Show" Sept. 17, taking the appearance as an opportunity to slam his opponent Mitt Romney's comment that 47 percent of the American people don't pay income taxes and consider themselves victims.
Between campaign stops, Obama has been making the television rounds, answering the public's questions during an interview with MTV and appearing on "The Daily Show With Jon Stewart" and "The Tonight Show With Jay Leno" over the past two weeks.